Glass
Glass can be considered to be the first artificial material invented by mankind. Even today its unique characteristics make it irreplaceable in some sectors. Furthermore, glass is recyclable ad infinitum and fully conforms to the principles of environmental sustainability.
Float glass, a characteristic material in the Rimadesio range, is a unique material from a technical and functional point of view. Resistance to wear and tear, easy maintenance, aesthetic versatility are only some of the reasons of its popularity in interior design. Moreover, glass can be recycled ad infinitum and as such complies to the principles of environmental sustainability.
Tempered glasses
Single tempered glasses, in other words cooked at 650° C of temperature. Mechanical resistance 5 times superior in comparison to a normal glass. In accordance with the UNI EN 12150, UNI 7697 and UNI EN 12600 rules with reference to the security of glasses for decoration purposes.
Laminated glasses
Double glasses. Between the two glasses (1) a thin plastic film (2) is inserted. Transparent and invisible it perfectly sticks to both surfaces. Both surfaces are perfectly smooth. Resistance to breaking in accordance with the UNI EN ISO 12543, UNI 7697 and UNI EN 12600 rules.
Acoustic laminated glasses
Security laminated glasses obtained by interposing between two float glass sheets a plastic material with acoustic insulation properties. Transparent and invisible, it completely adheres to the two surfaces and in case of breakage helps to retain the fragments. Rimadesio uses acoustic laminated glass with a reduction of 37 (-0; -2) dB.
Transparent, coloured transparent, frosted, matte lacquered, glossy reflective, mirrored, with metal nets: the sheer variety of glass finishes allows for the greatest possible freedom in design.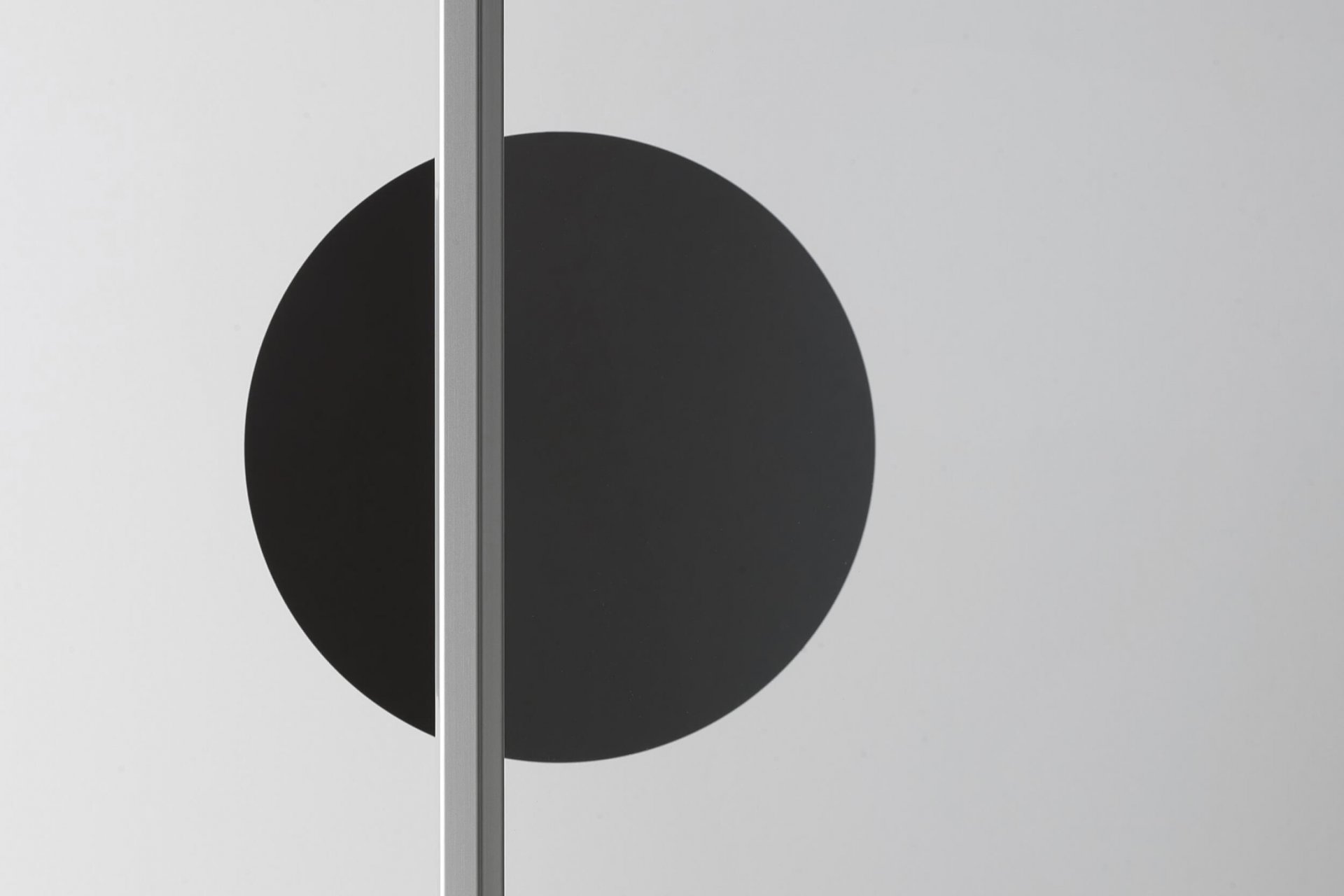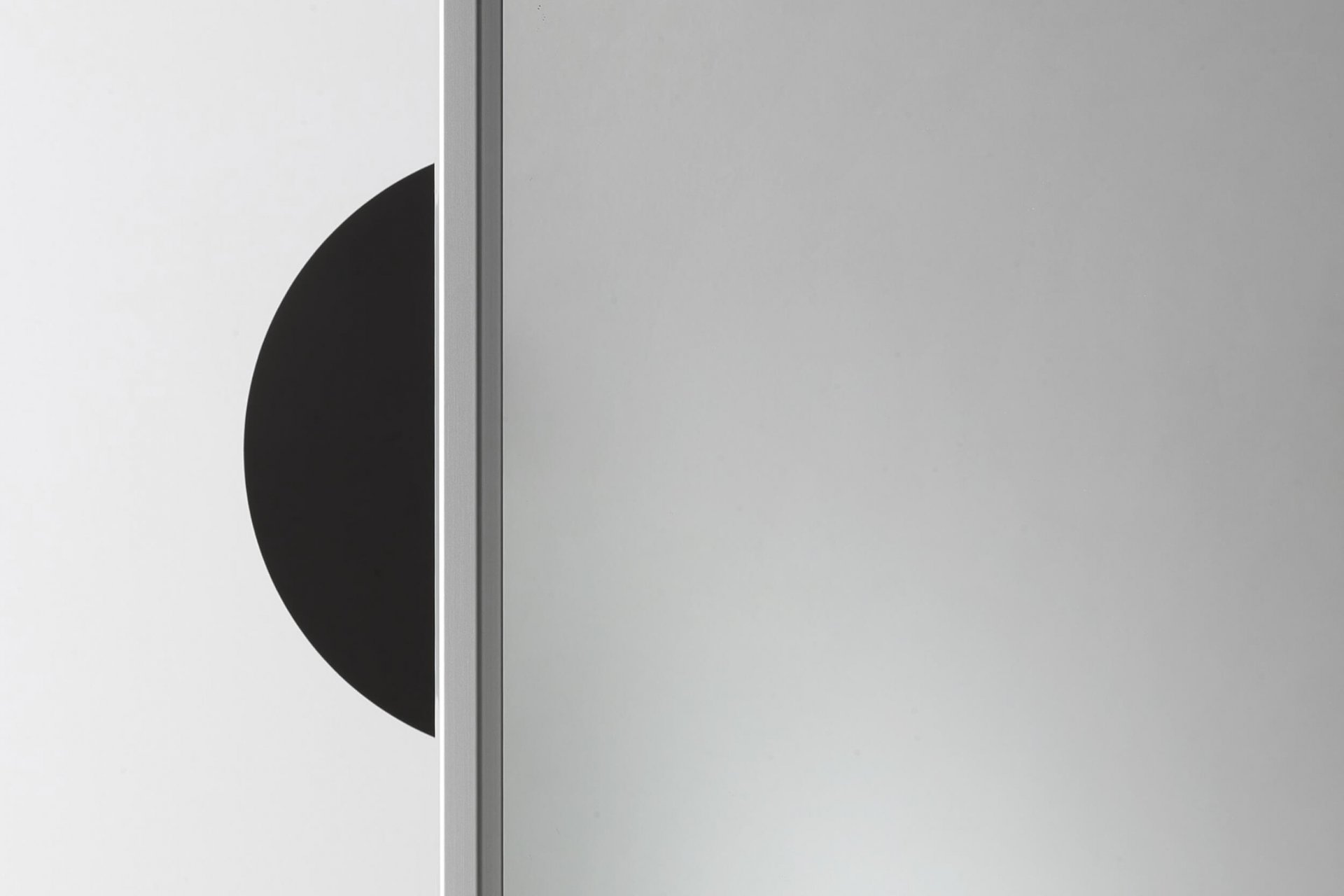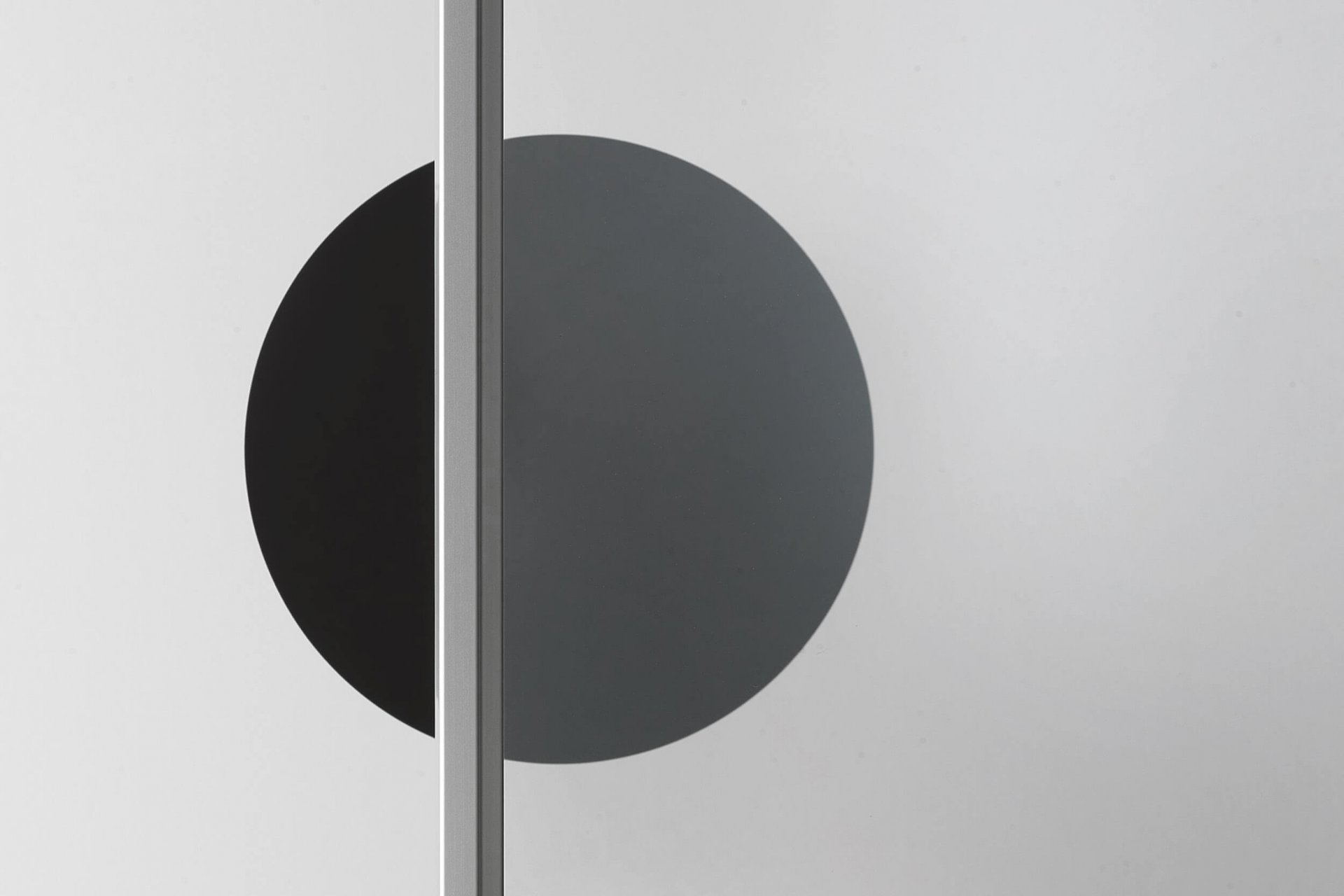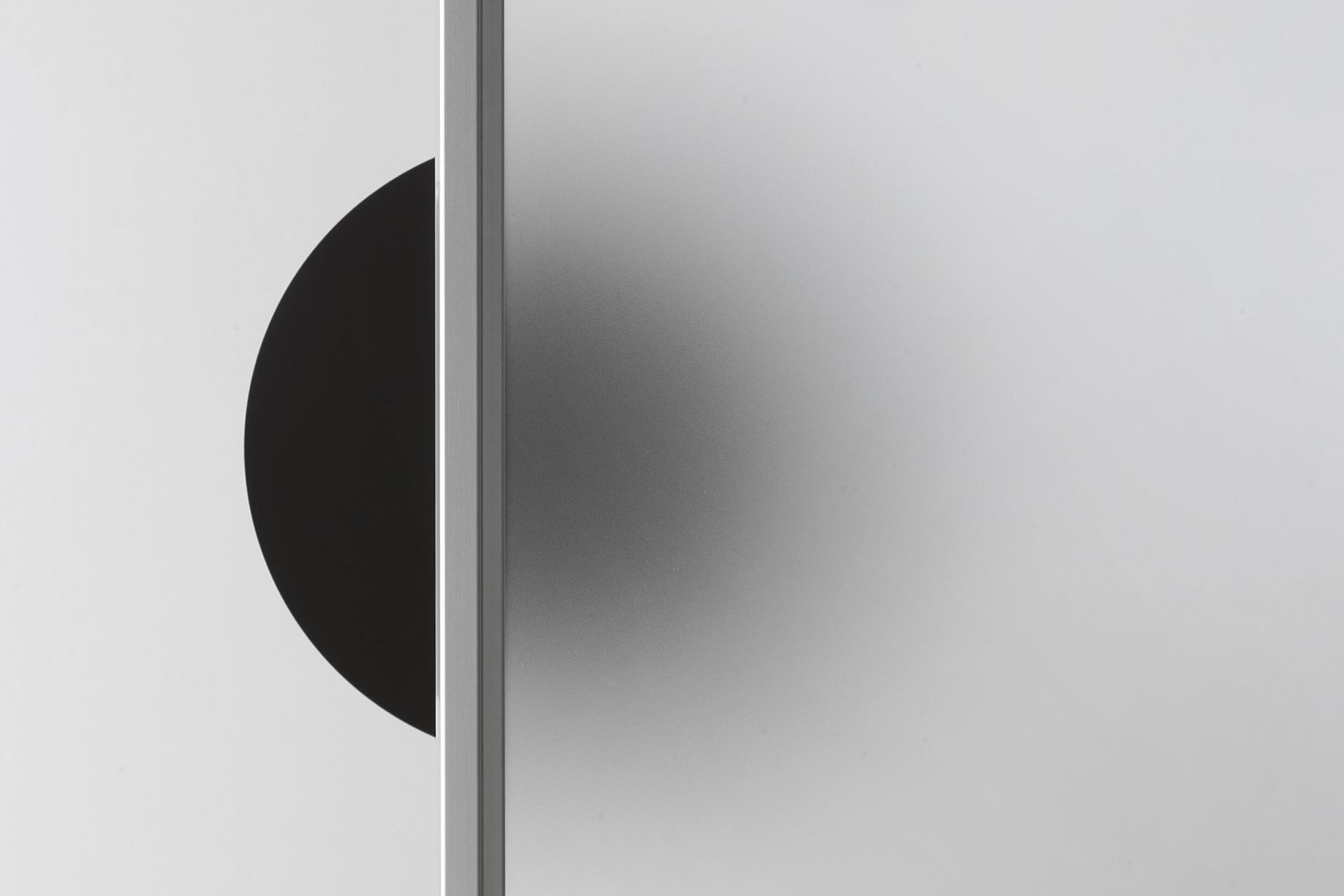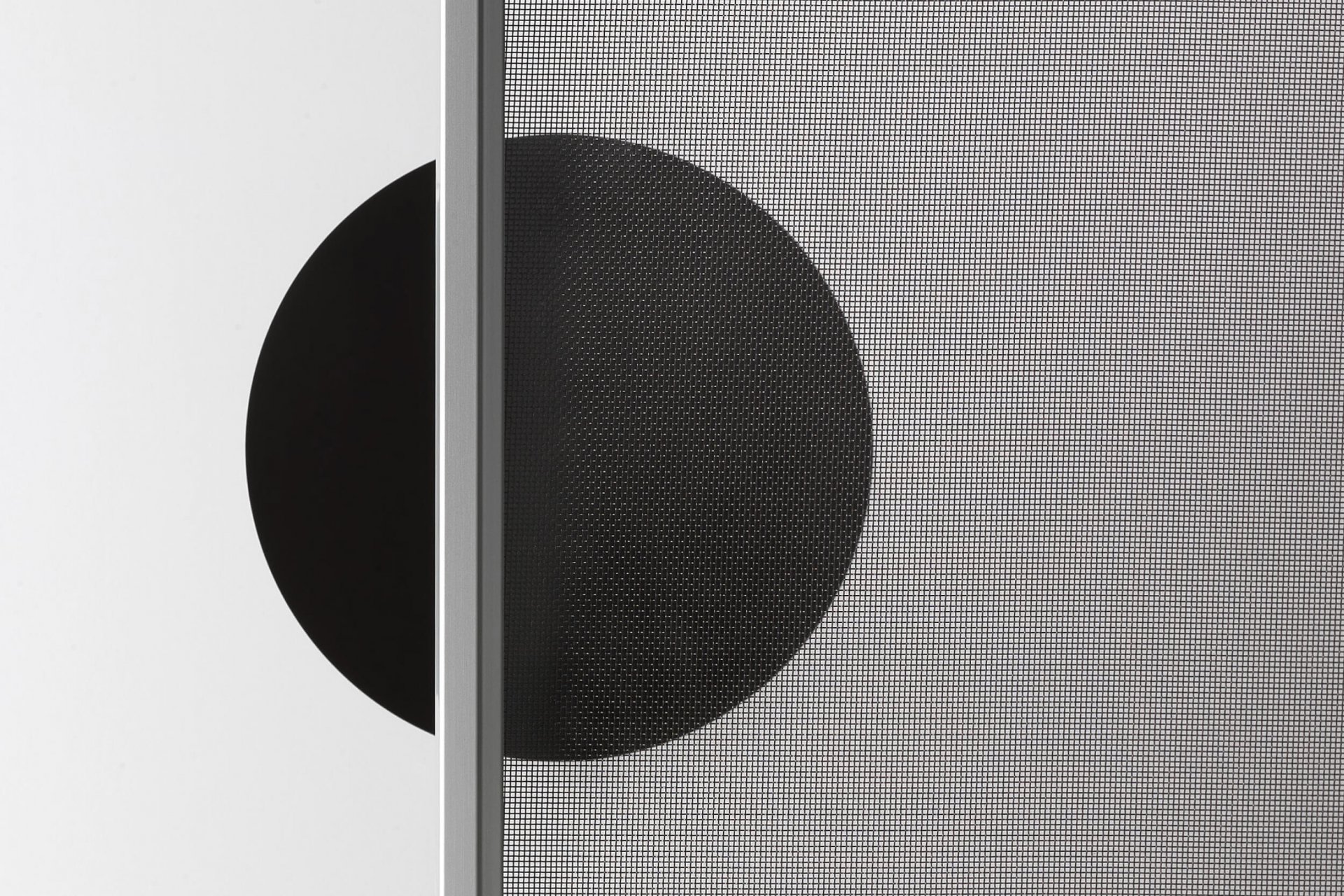 Aluminium
Aluminium is 100% recyclable, and can therefore be defined as clean and green. This extraordinary quality, together with its pliancy, lightness and durability, is the reason for its choice for all the structural parts of our products. Moreover, 65% of the aluminium used in Rimadesio is recycled and comes from Italian foundries.
Aluminium and its alloys are charcaterized by a ratio between resistance and strength that is clearly favourable if compared to that of steels. Its specific weight (2.71 kg/dm3) is approximately one third of that of common steel (7.8 kg/dm3). This characteristic, together with its resistance to corrosion in neutral environments, to its electric conductivity and to its malleability has led to its widespread use.
Rimadesio creates the structures and frames of all its products in extruded or die-cast aluminium, combining lightness with the upmost solidity and durability. Rimadesio uses a number of different aluminium alloys belonging to the series 6000 (Al-Mg-Si), alloys which are characterized by a good mechanical resistance and a good resistance to corrosion, as well as easy workability and,excellent structural and qualitative performance. Included among these are EN AW 6060/T6 or EN AW 6005A/T6 F25.
The latter ensures outstanding technical performance in terms of resistance to bending and to torsion, and it is used for example for sliding systems, for tables and for structural elements that are most subject to stress. Rimadesio uses aluminium also in the production of drawers, doors, shutters and shelves using an exclusive "folding" production process.
The number of different finishes in the collection is the result of a number of different techniques of surface processing. The objective is twofold: to have a wide and polished range and to improve the product's resistance to wear and tear.
Anodized aluminium
Anodizing ia an electrochemical process that finishes aluminium with a protective,layer, increasing its resistance to corrosion and wear, Rimadesio uses anodized material conforming to the quality brand QUALANOD, ensuring an outstanding level of quality, complying to the standards of the series EN 12373 (aluminium and aluminium alloys- anodic oxidation ) and to any subsequent updates and amendments. Anodized aluminium undergoes a series of controls in order to guarantee high standards of quality in terms of thickness (ISO 2370), quality of adhesion and fastening (EN 12373-4, EN 12373-5, EN 12373-7), resistance to wear (BS 6161-18) and resistance to corrosion (ISO 9227).
Powder coated
Rimadesio uses aluminium painted with epoxy powders in compliance with the law EN 12206-1 and with the brand QUALICOAT, guaranteeing an excellent level of quality. The powder coated aluminium undergoes a series of tests in order to establish its glossiness, the thickness of the layer (EN ISO 2360), adhesion (EN ISO 2409), resistance to indentation (EN ISO 2815), resistance to bending (EN ISO 1519) and resistance to corrosion (Machu test).
Matte lacquer ecolorsystem
Ecolorsystem is the name of the exclusive signature Rimadesio collection of matte lacquers for alluminium. They are eco-friendly products because they only use state of the art water based paints with a low environmental impact, baked at 70C°. The lacquered aluminium has undergone a series of tests in order to check its resistance to changes in temperature, (UNI 9429), resistance to corrosion (UNI EN ISO 9227), resistance to detachment of the lacquering (UNI EN ISO 2409), resistance to deterging agents (EN 12720) and resistance to wear due to the friction and removal of the paint layer.
Brushed Metal
Brushed metal finish is a new take on aluminium, obtained through painting and brushing processes carried out by hand, giving an idea of a "history"and craftsmanship to the metal..The variations in colour are therefore a characteristic of this exclusive finish.
Polished aluminium
Polished aluminium is produced by the artisan manufacturing processes of brushing and polishing, carried out using state of the art machinery. At the end of the process the material is finished with a transparent protective layer which guarantees its durability and resistance
Glossy black
The glossy black finish is obtained through several painting phases, using only state of the art water-based paints. The special glossy effect is obtained through the application of specific products through a custom made process using manual equipment
Grey NickelThe nickel grey finish is obtained through several painting layers with the latest generation of enamels, capable of creating the appearance of the most natural metal oxidations. The special glossy effect is the result of a manual brushing and polishing process carried out on the raw material.