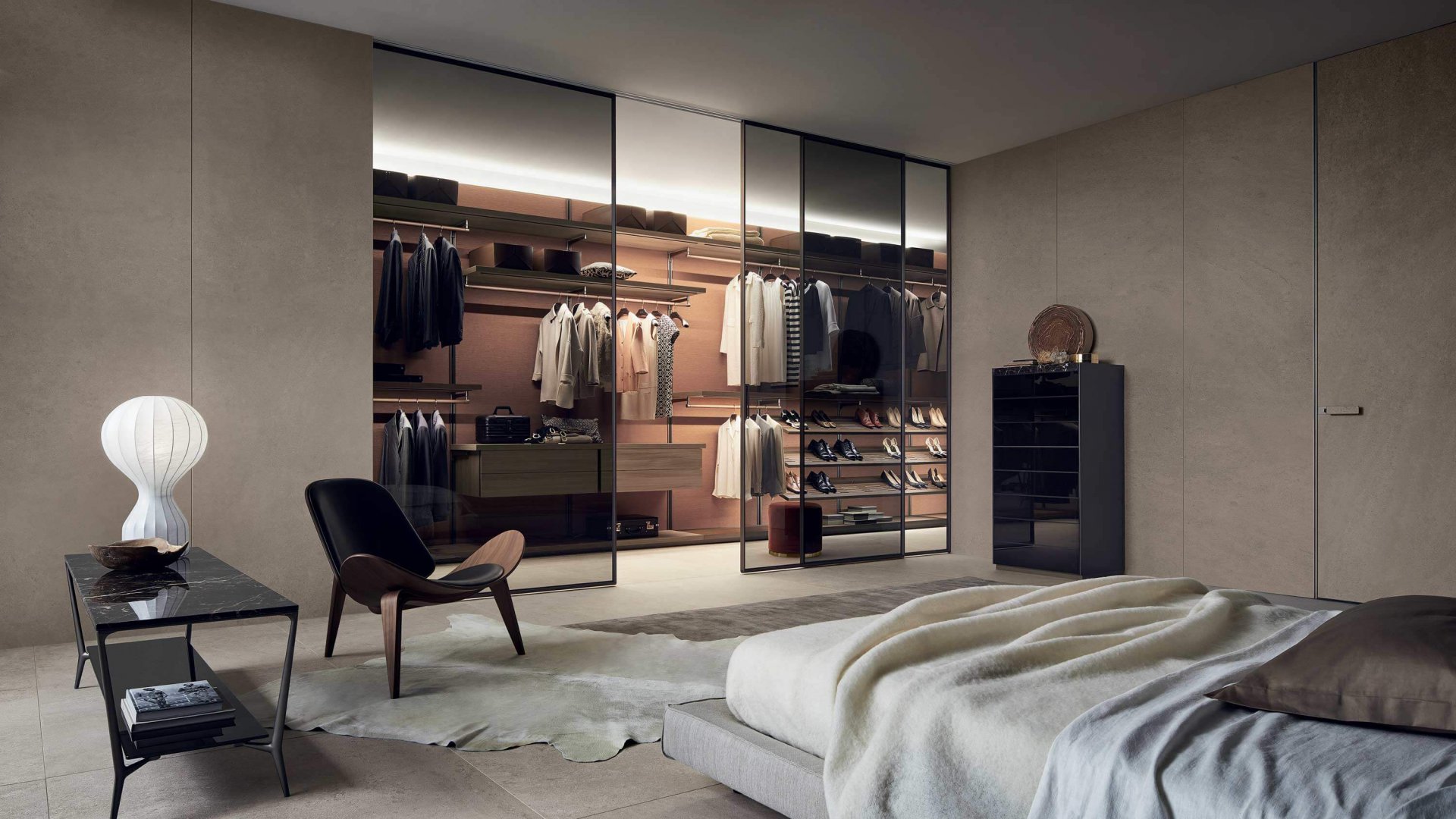 Dress bold is a system that creates highly personalized walk-in closets with the option of customized compositions for linear, corner and C-shaped solutions.
Two aesthetic possibilities: with visible uprights or with back panels available in glossy or mat glass, fabric, wood, mirror and provided with optional upper led lighting. The accessories, which can be freely placed along the wall upright by means of a patented expansion fixing system that requires no holes, include: shelves and floor bases, cloth hangers, cloth lift, drawer units, trouser racks and pull out trays.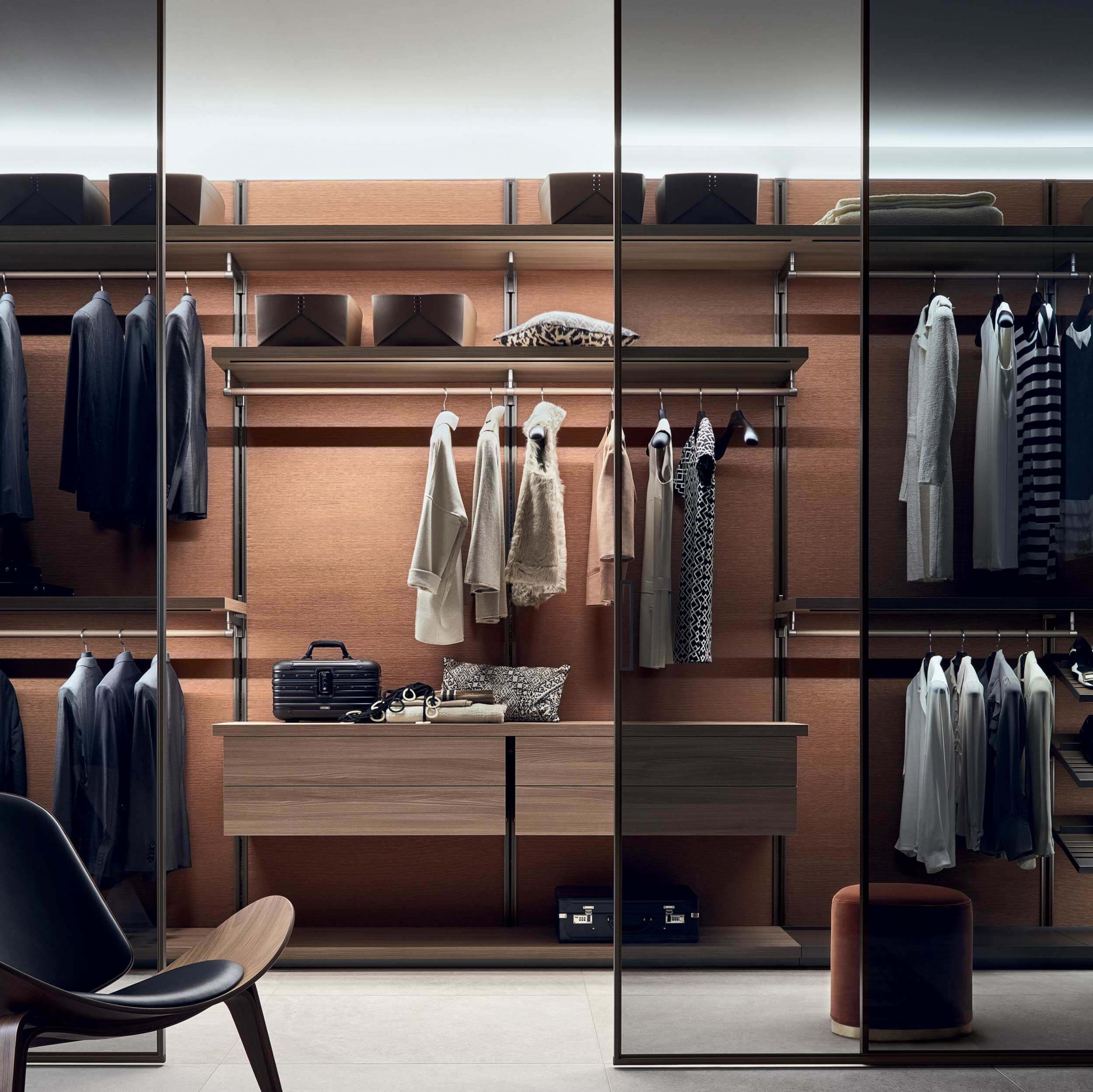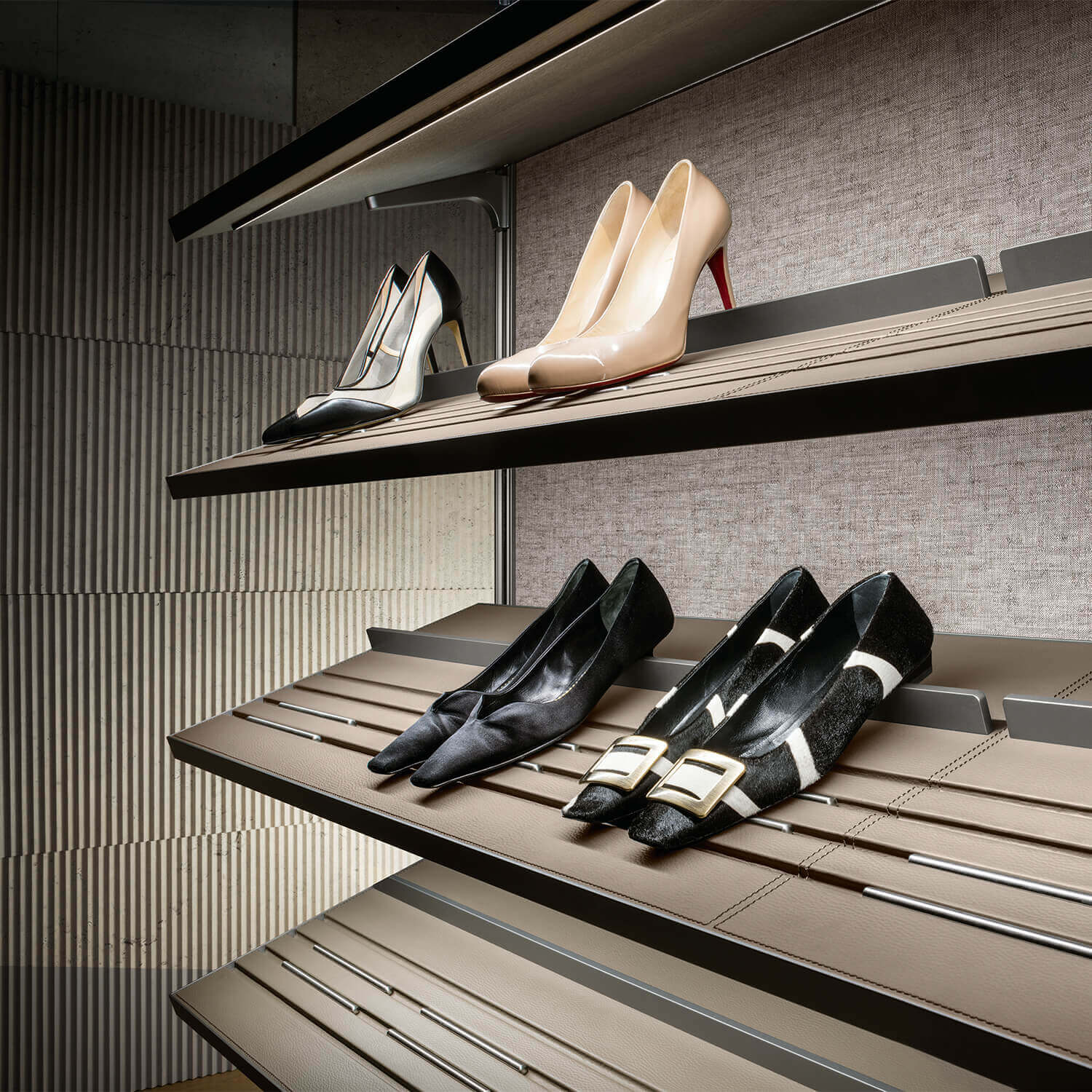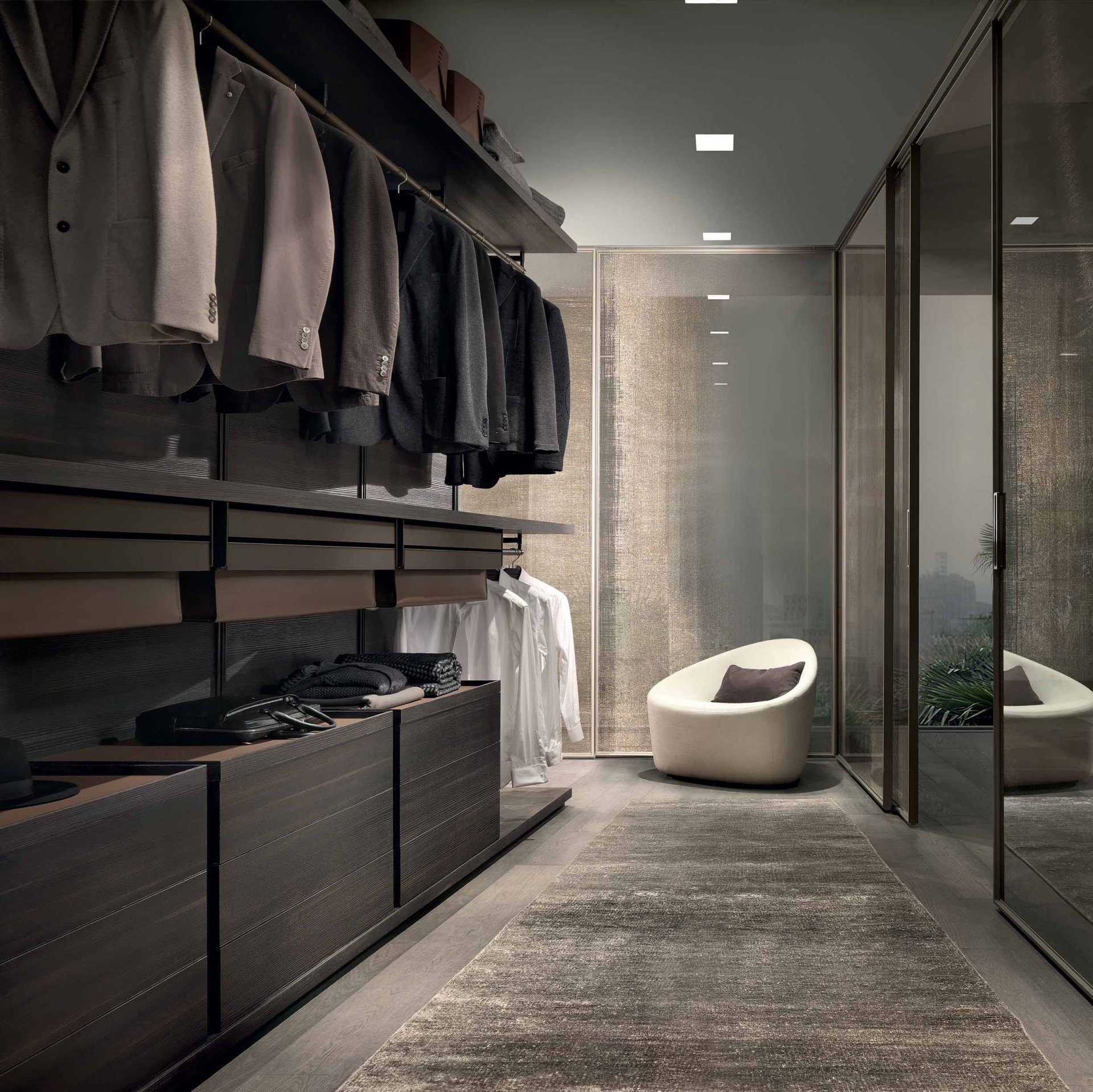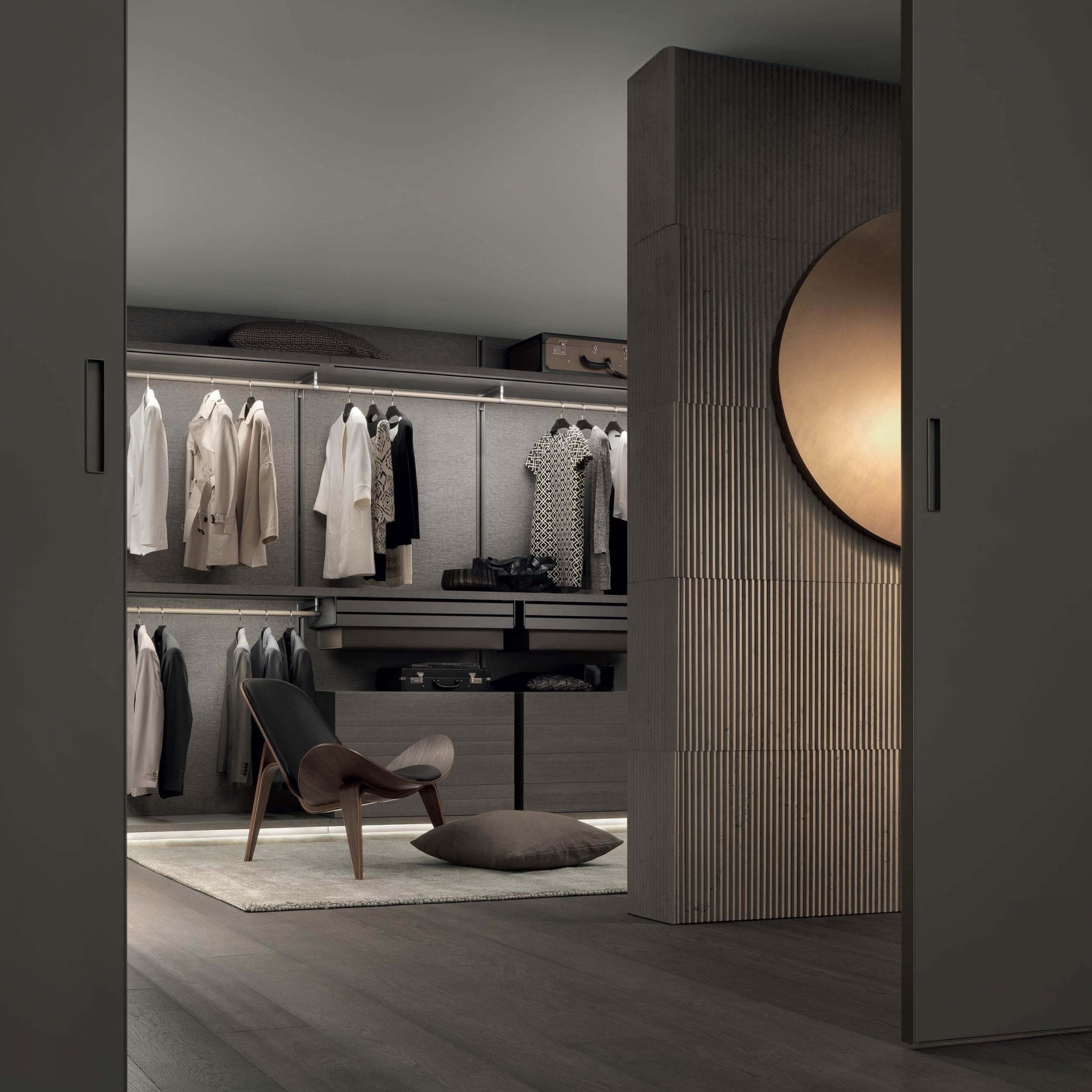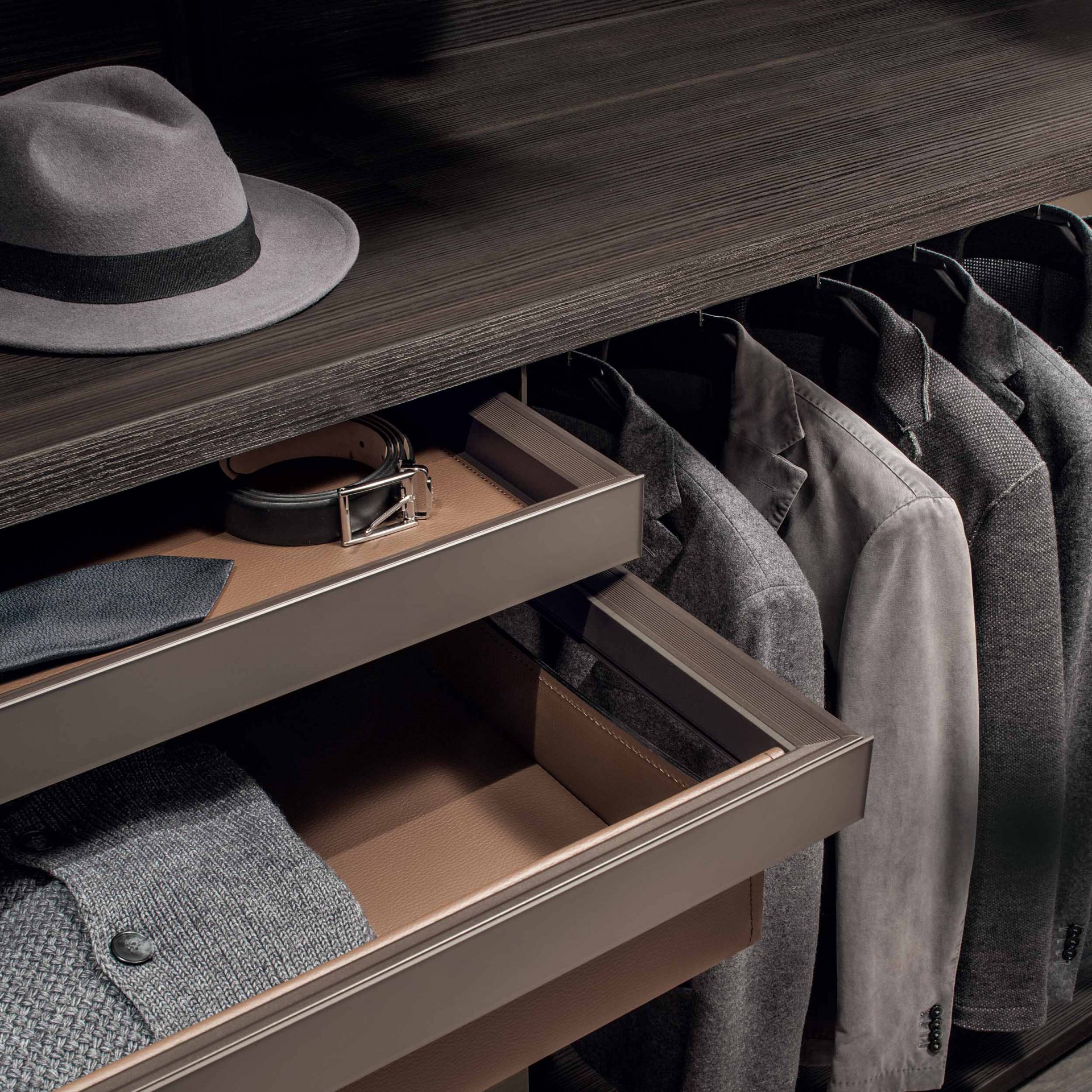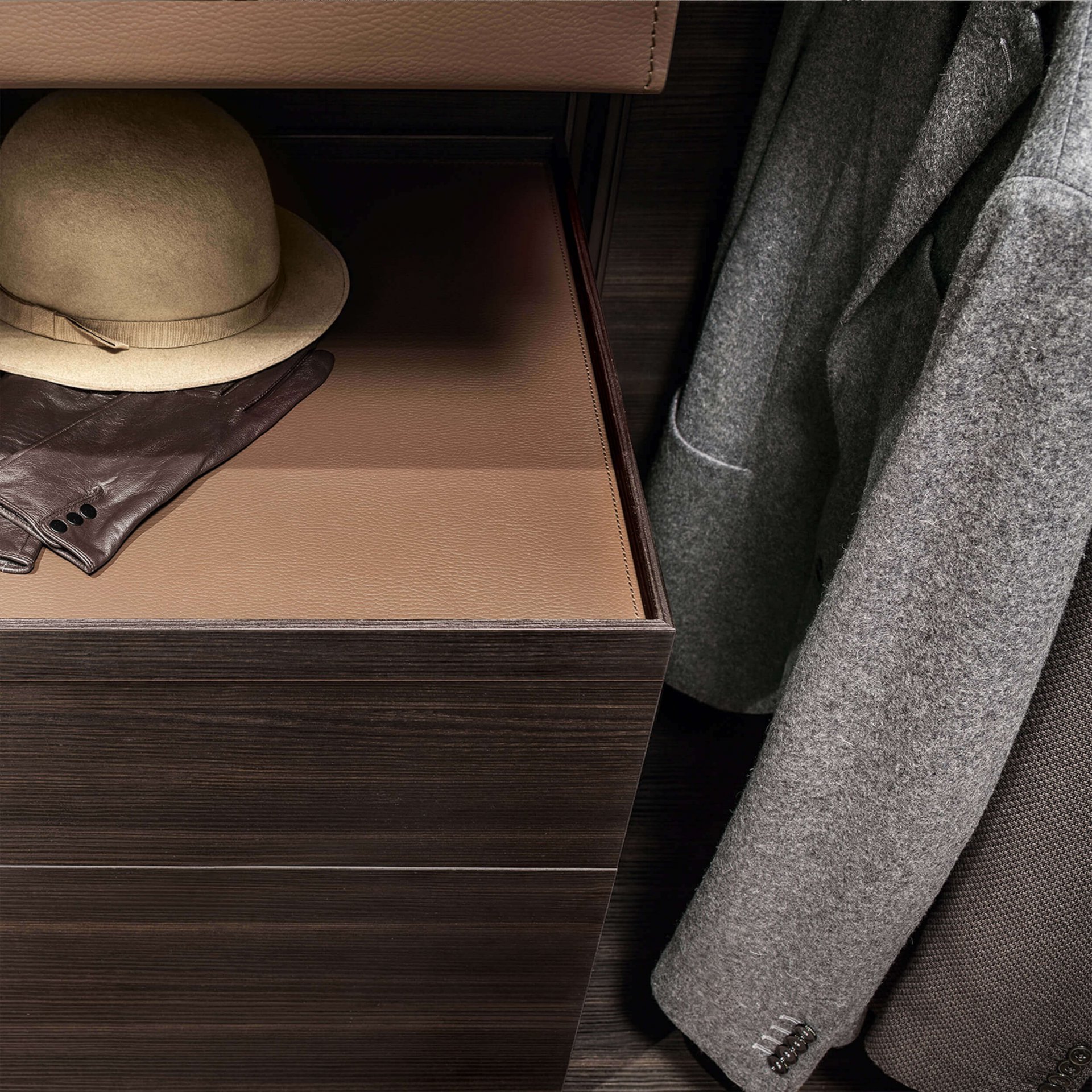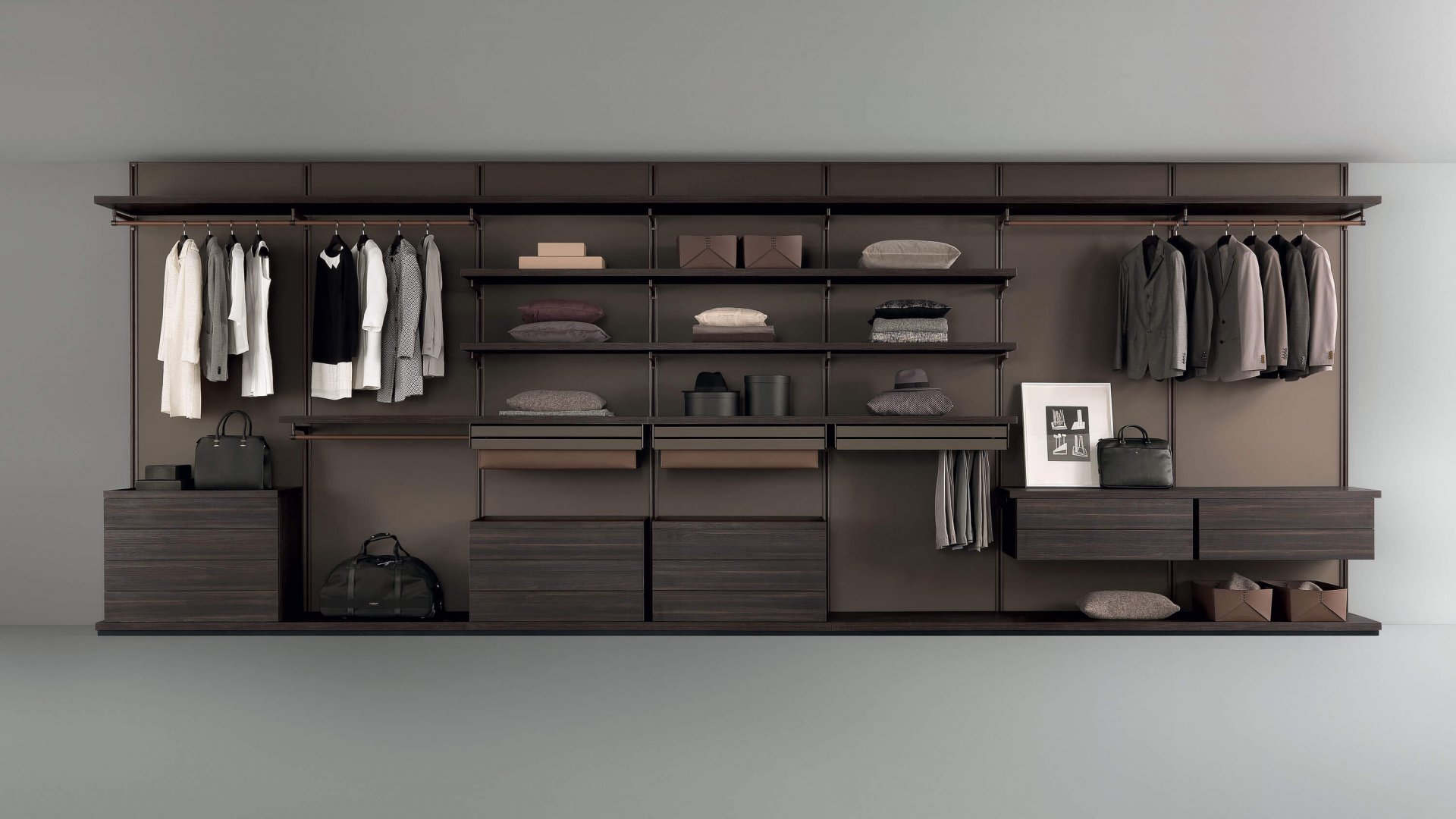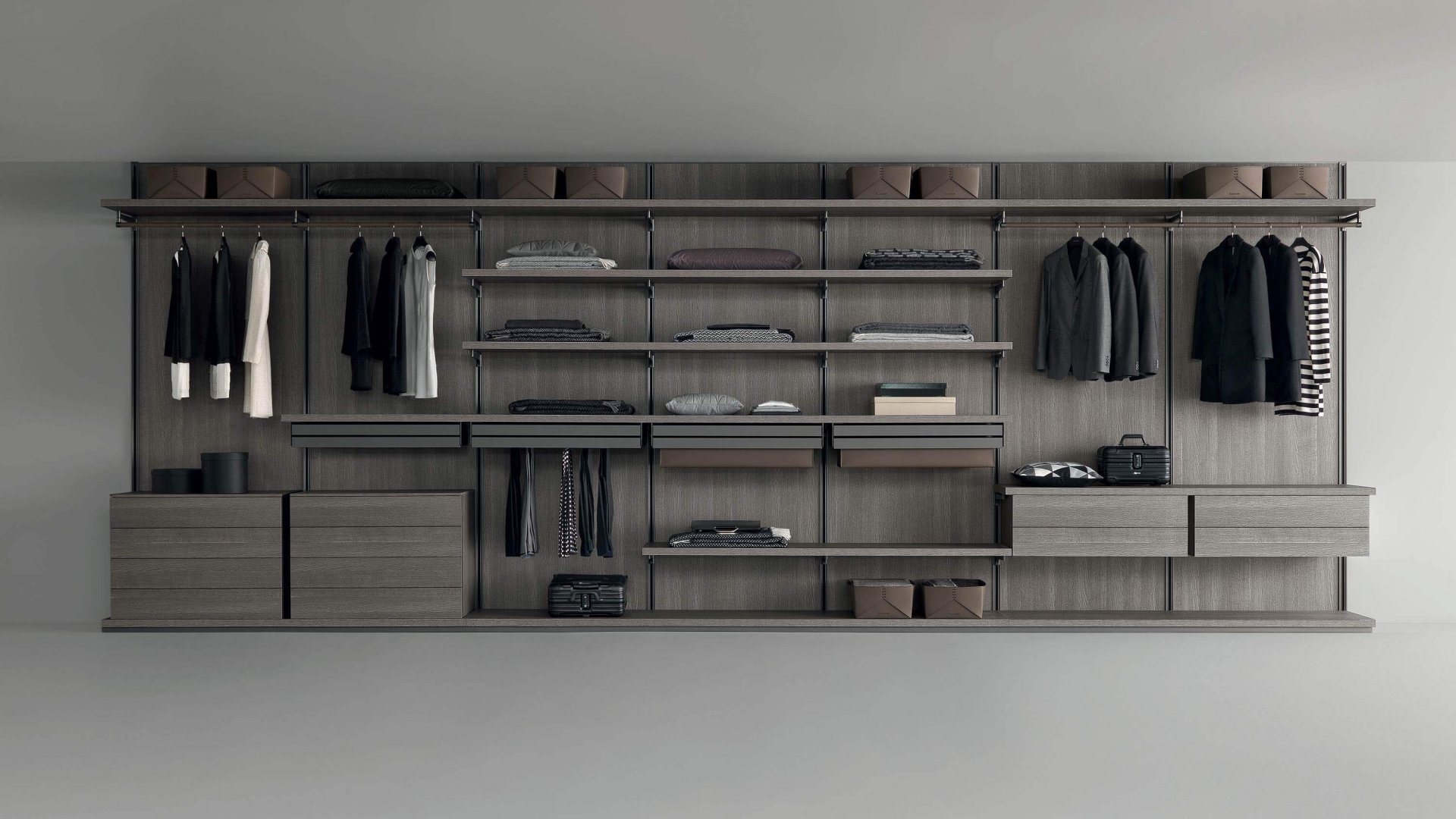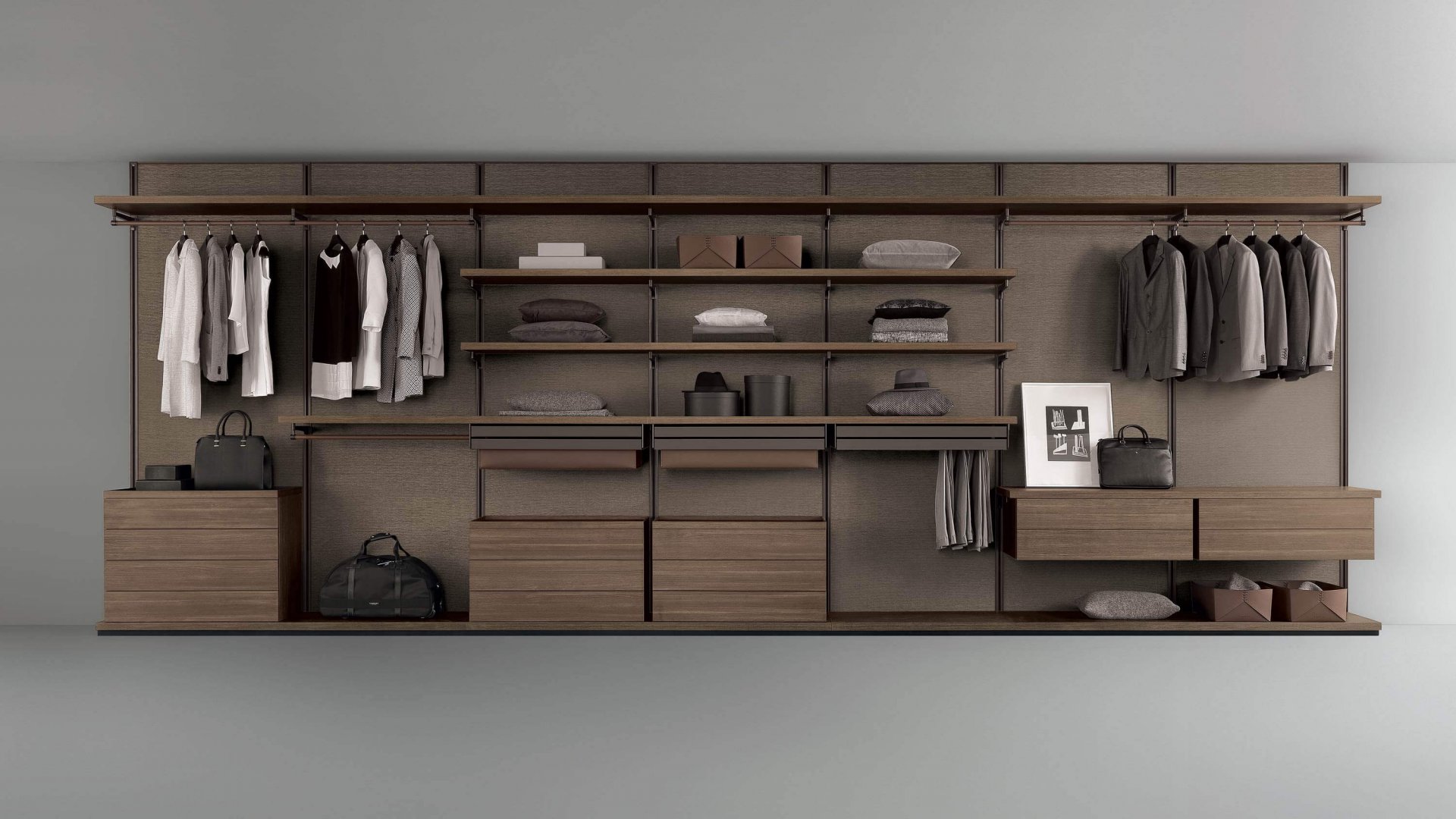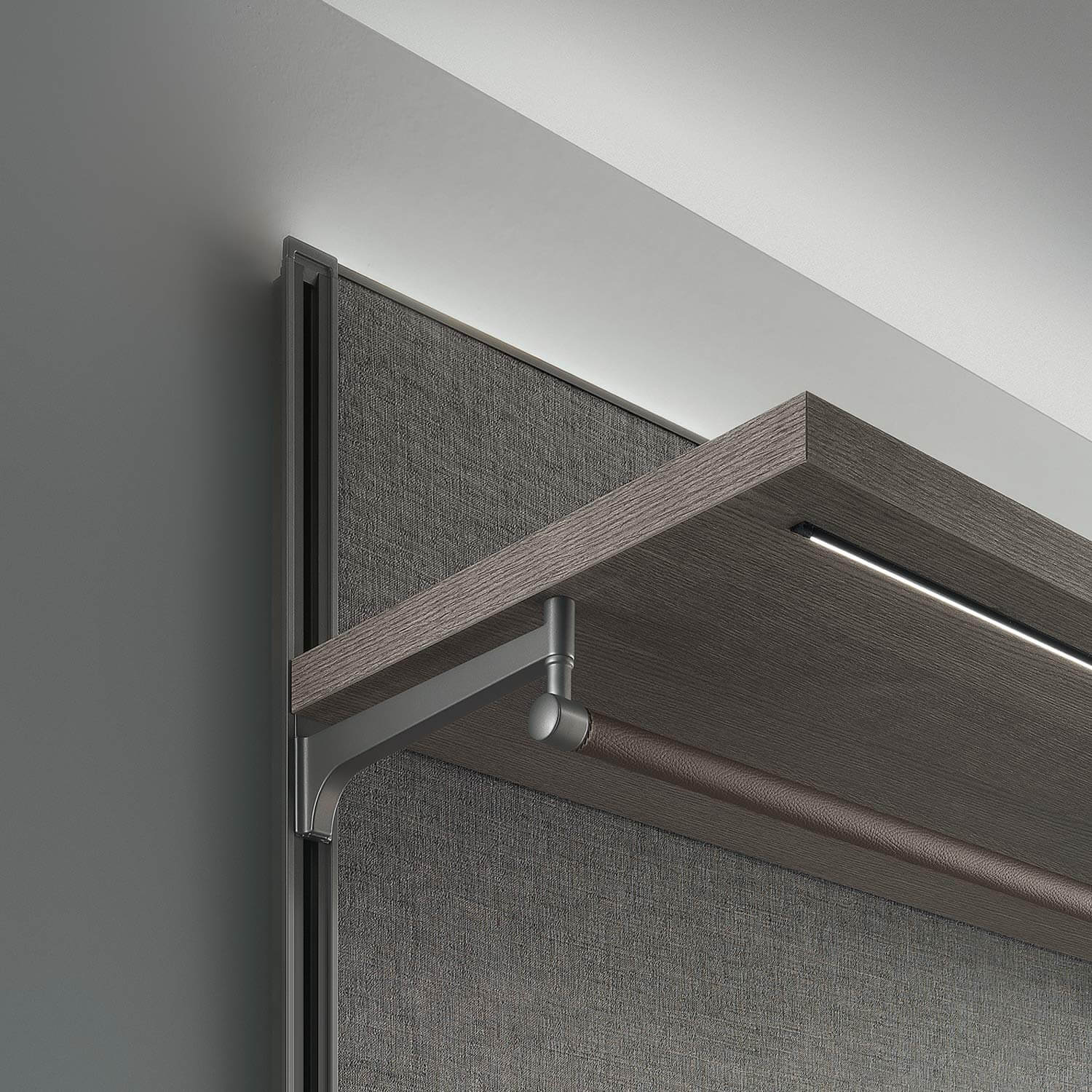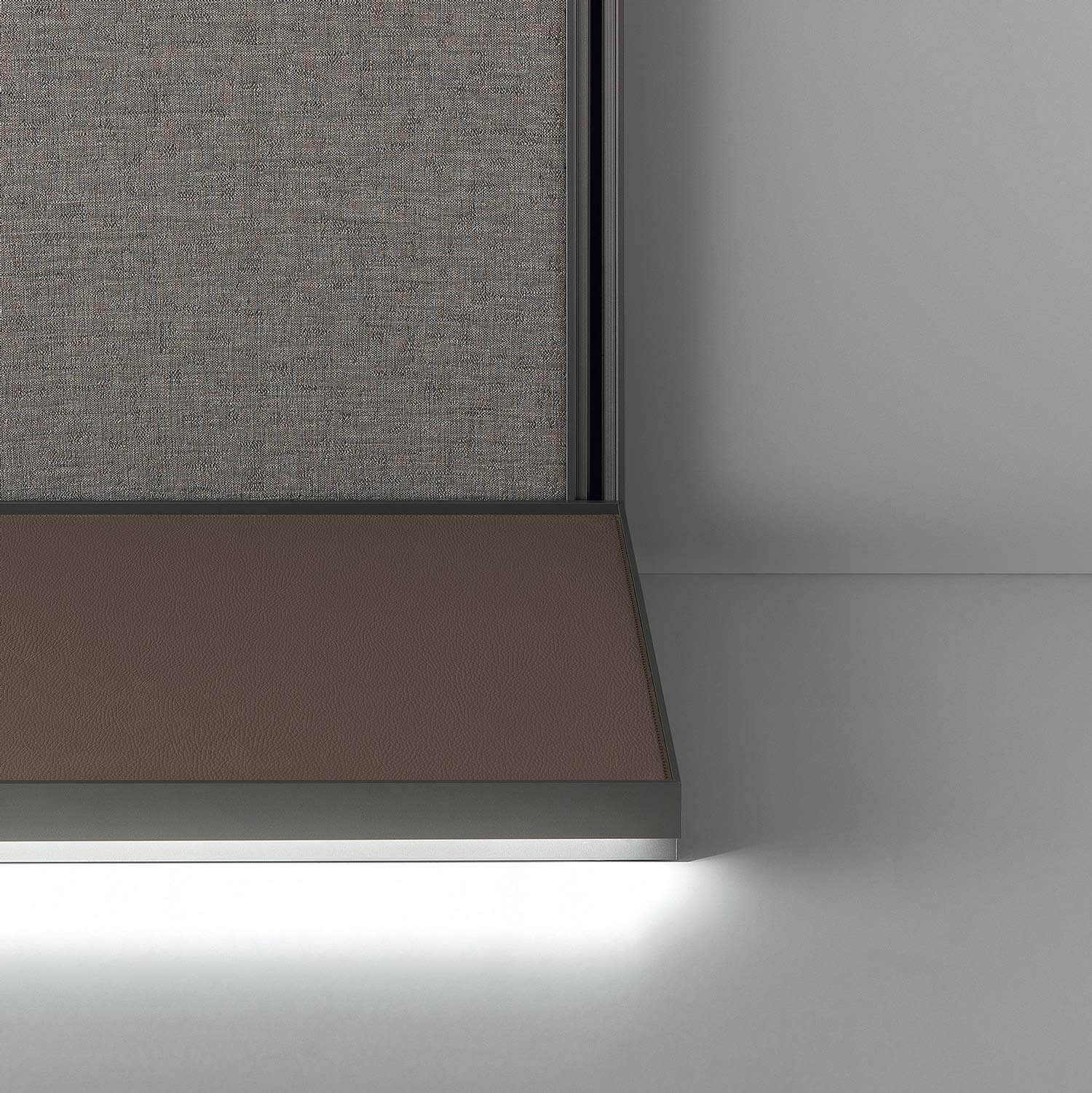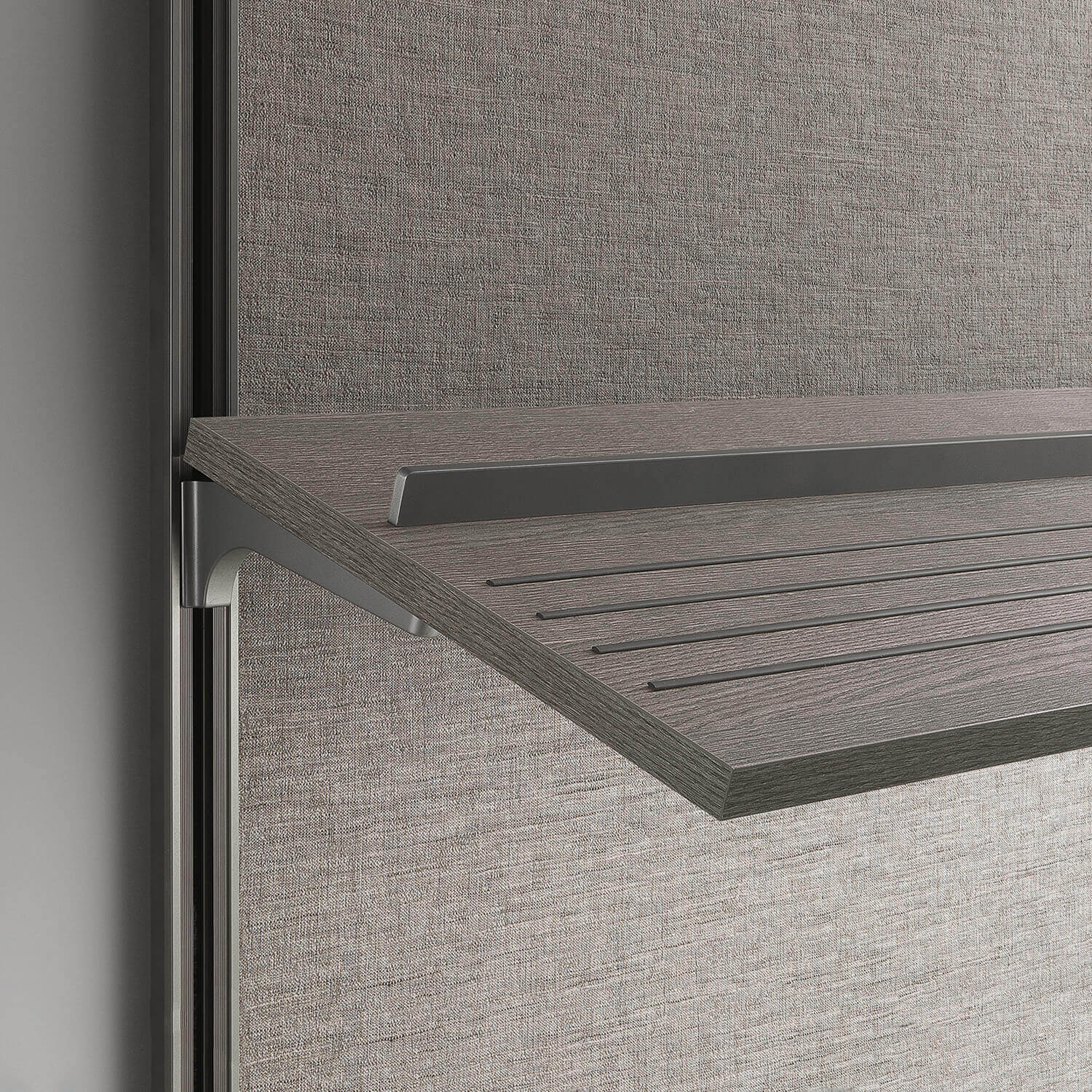 Exclusive technical features
Dress bold system is characterized by one-running melamine shelves with honey comb wooden structure 40 mm thick and floor-bases with continuos aluminium frame.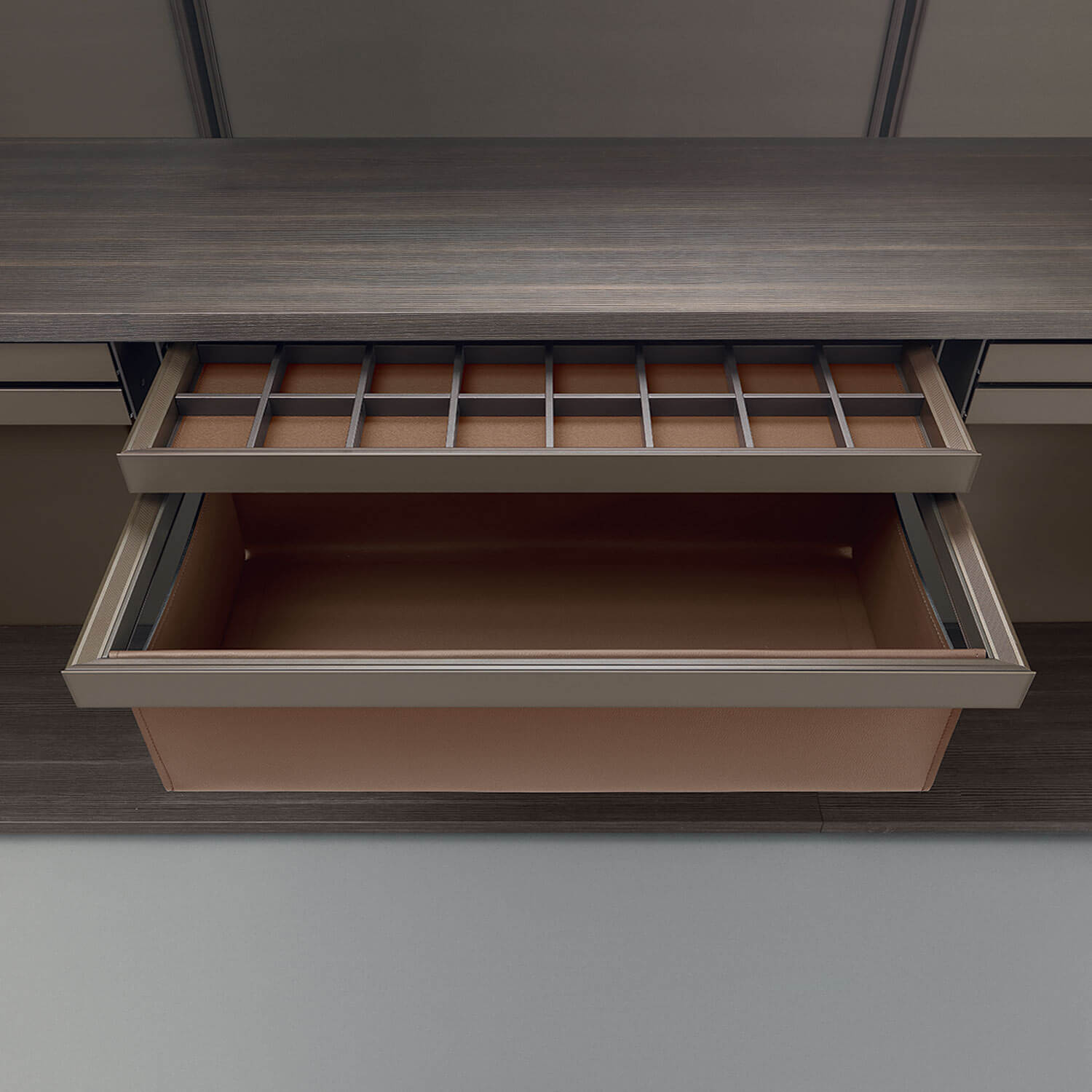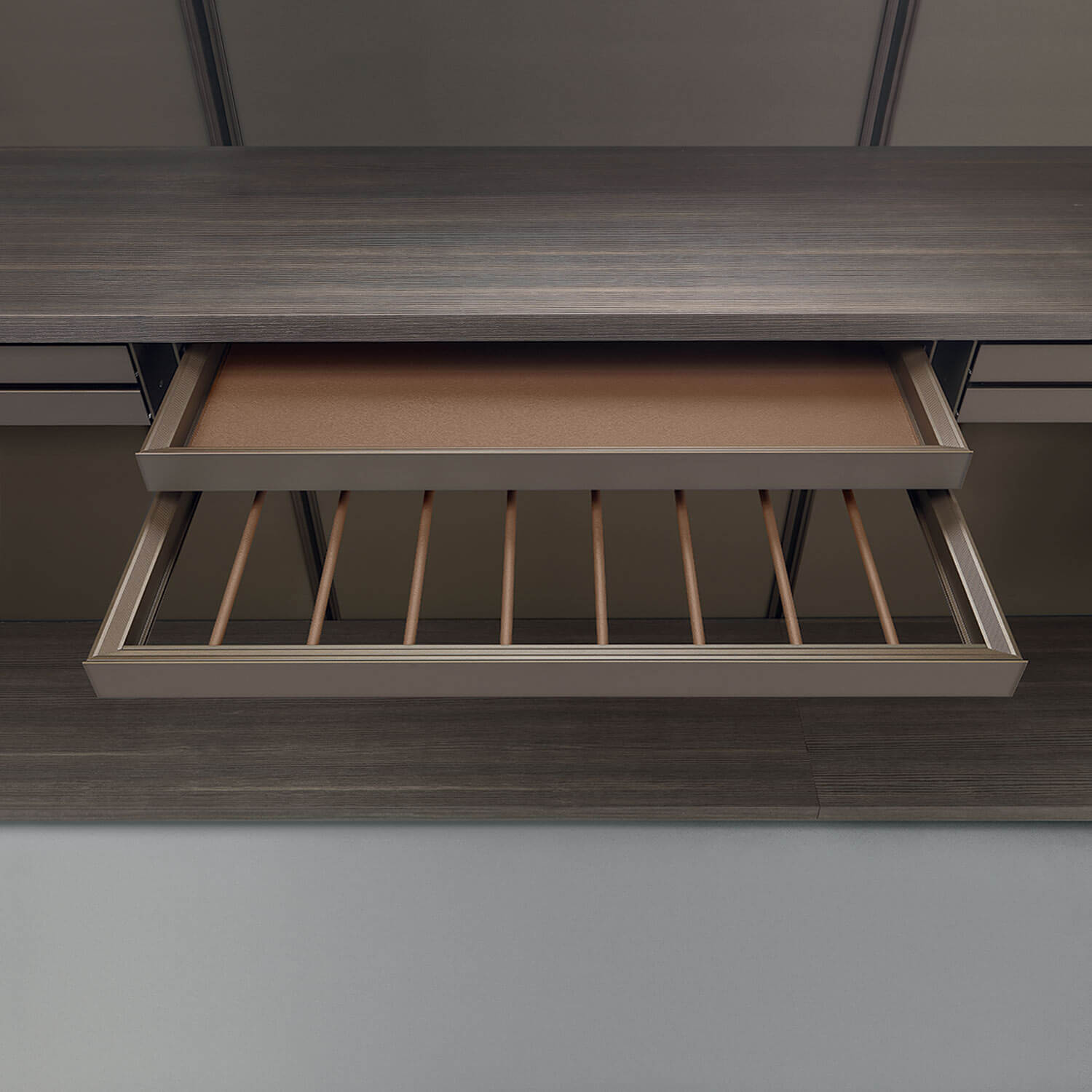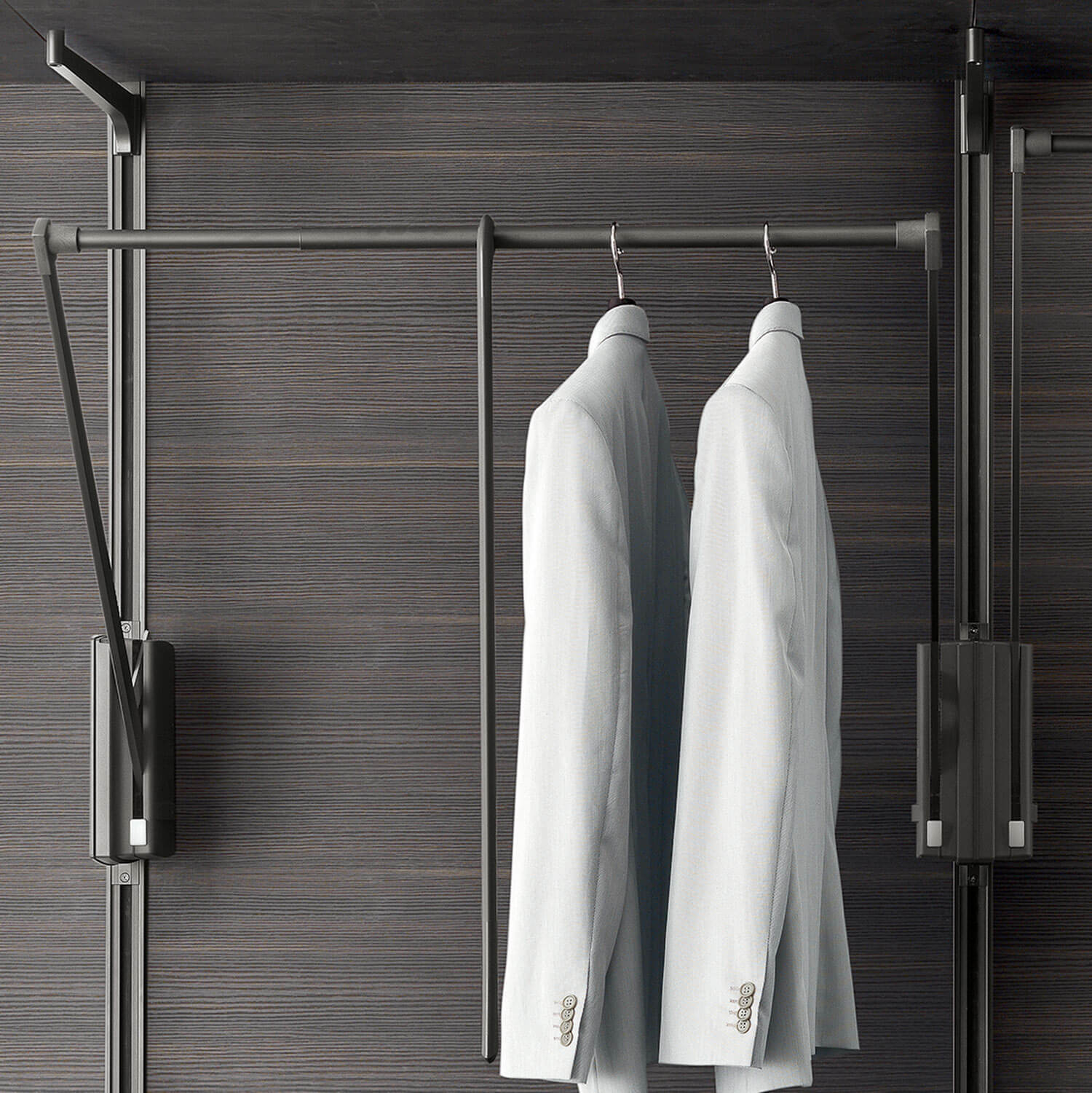 Internal equipment
The accessories can be freely positioned on the wall upright, thanks to the patented expansion fixing system, without holes.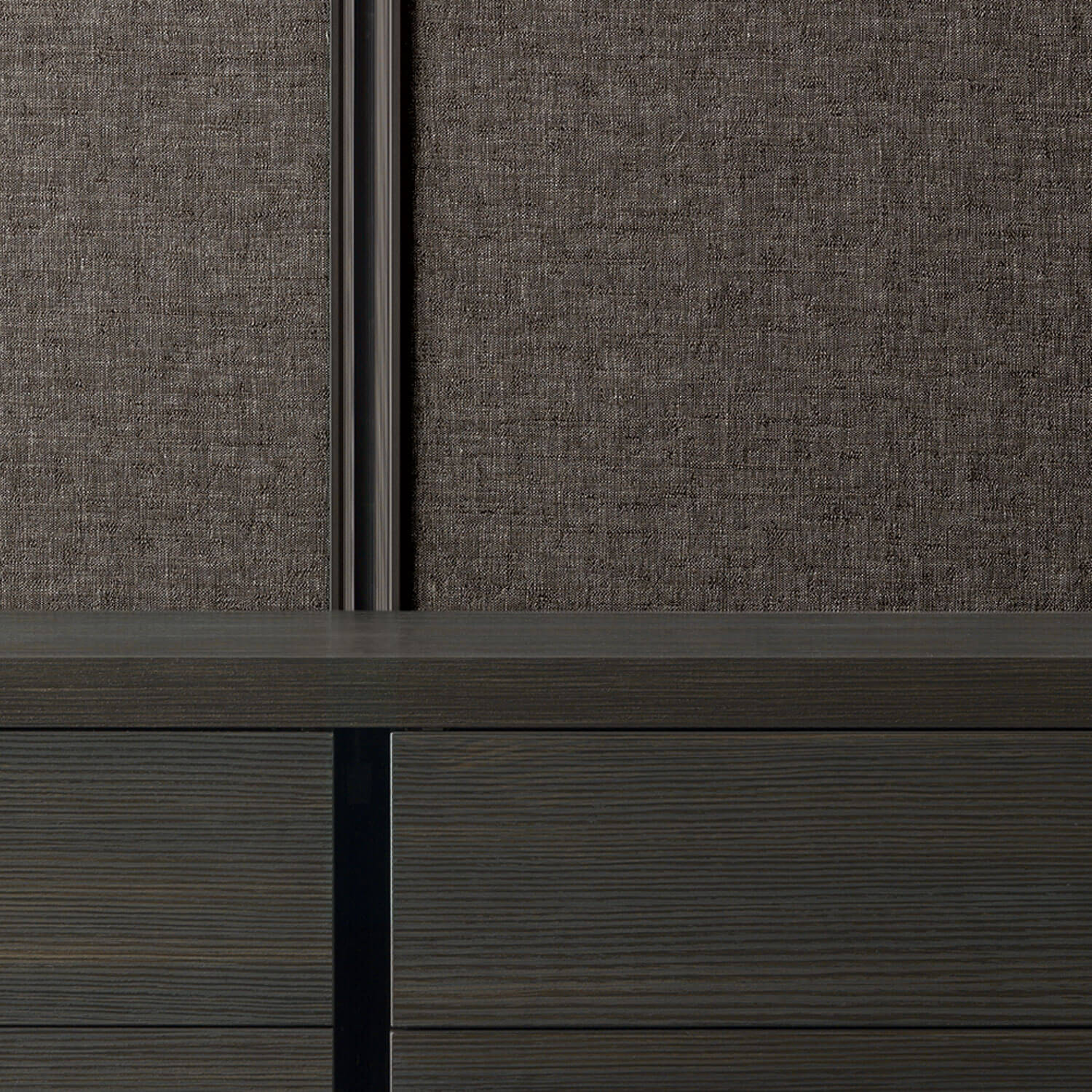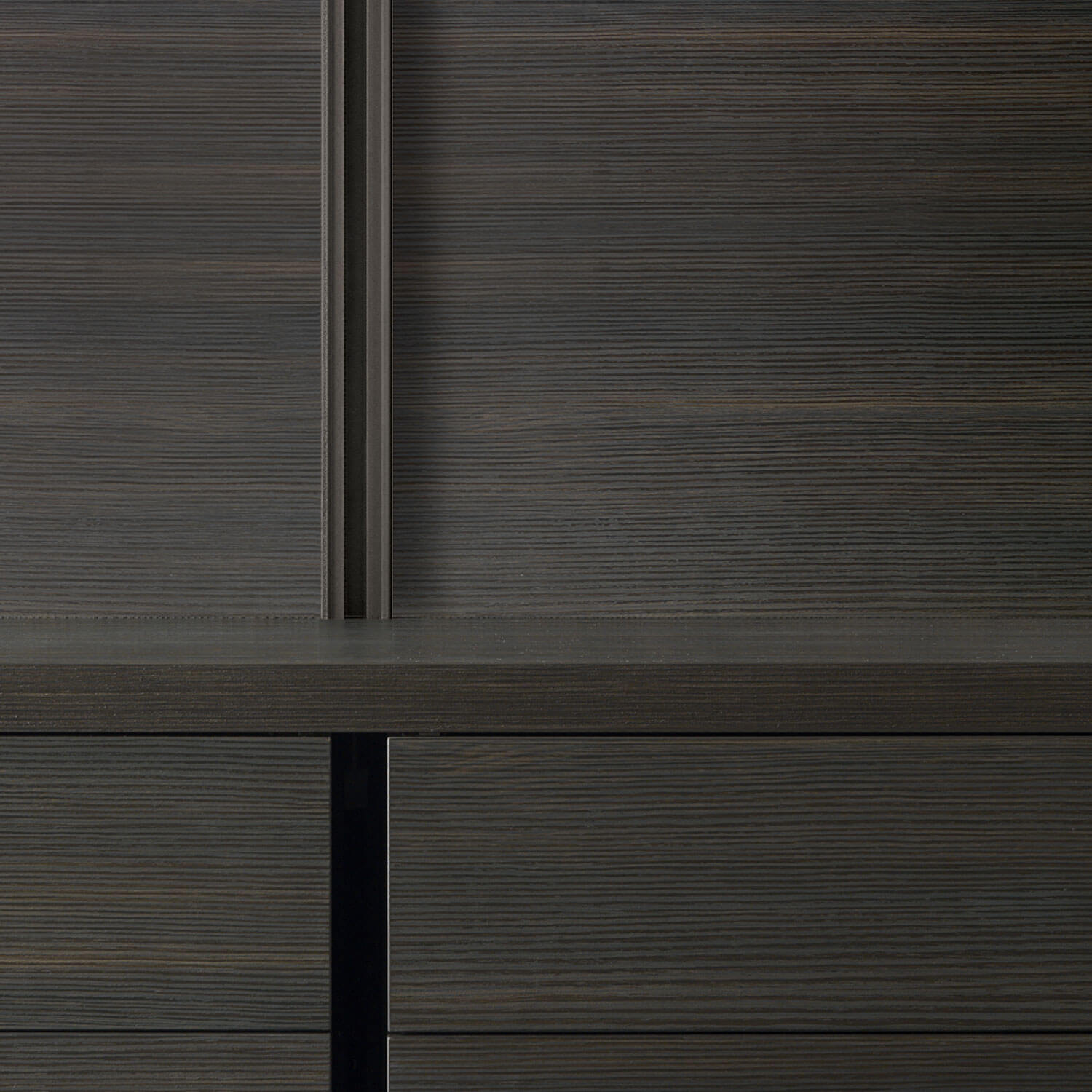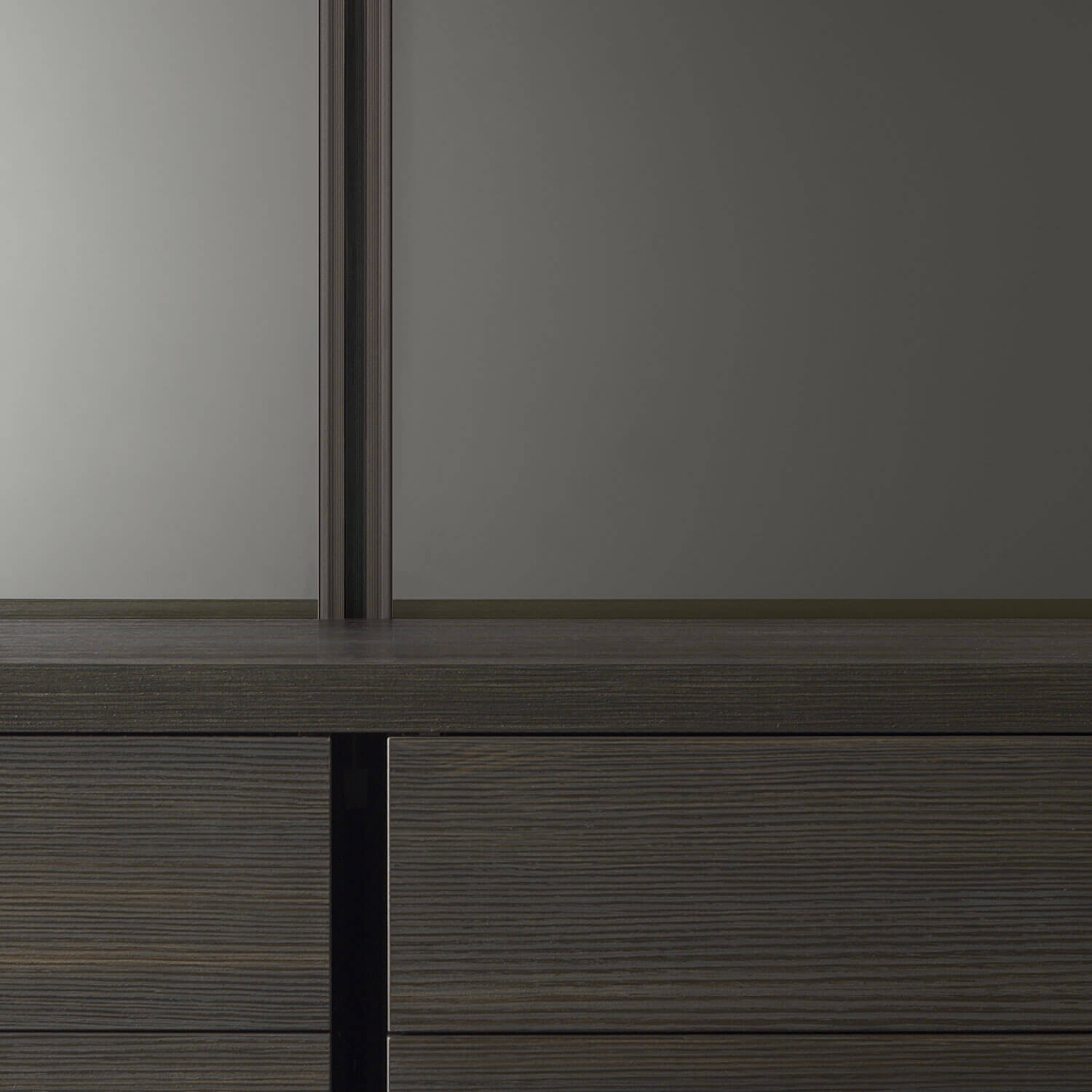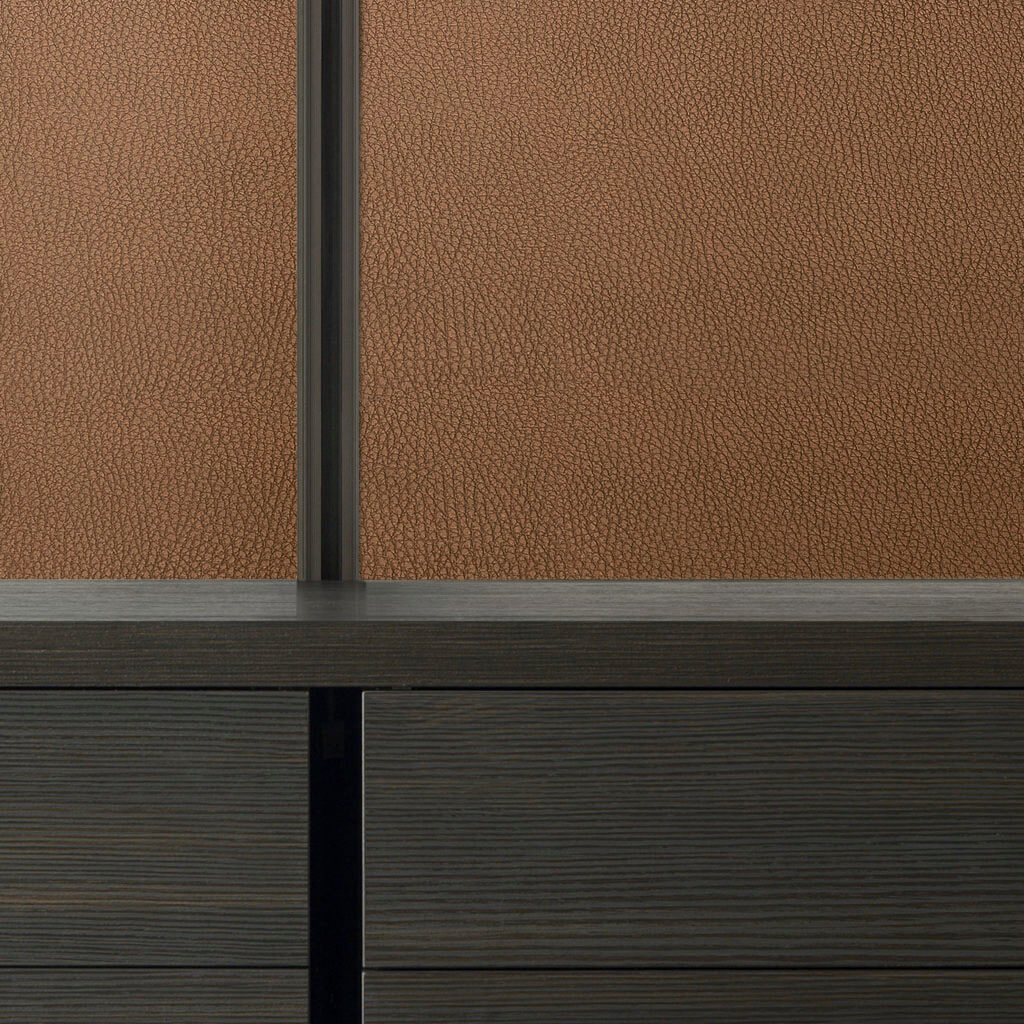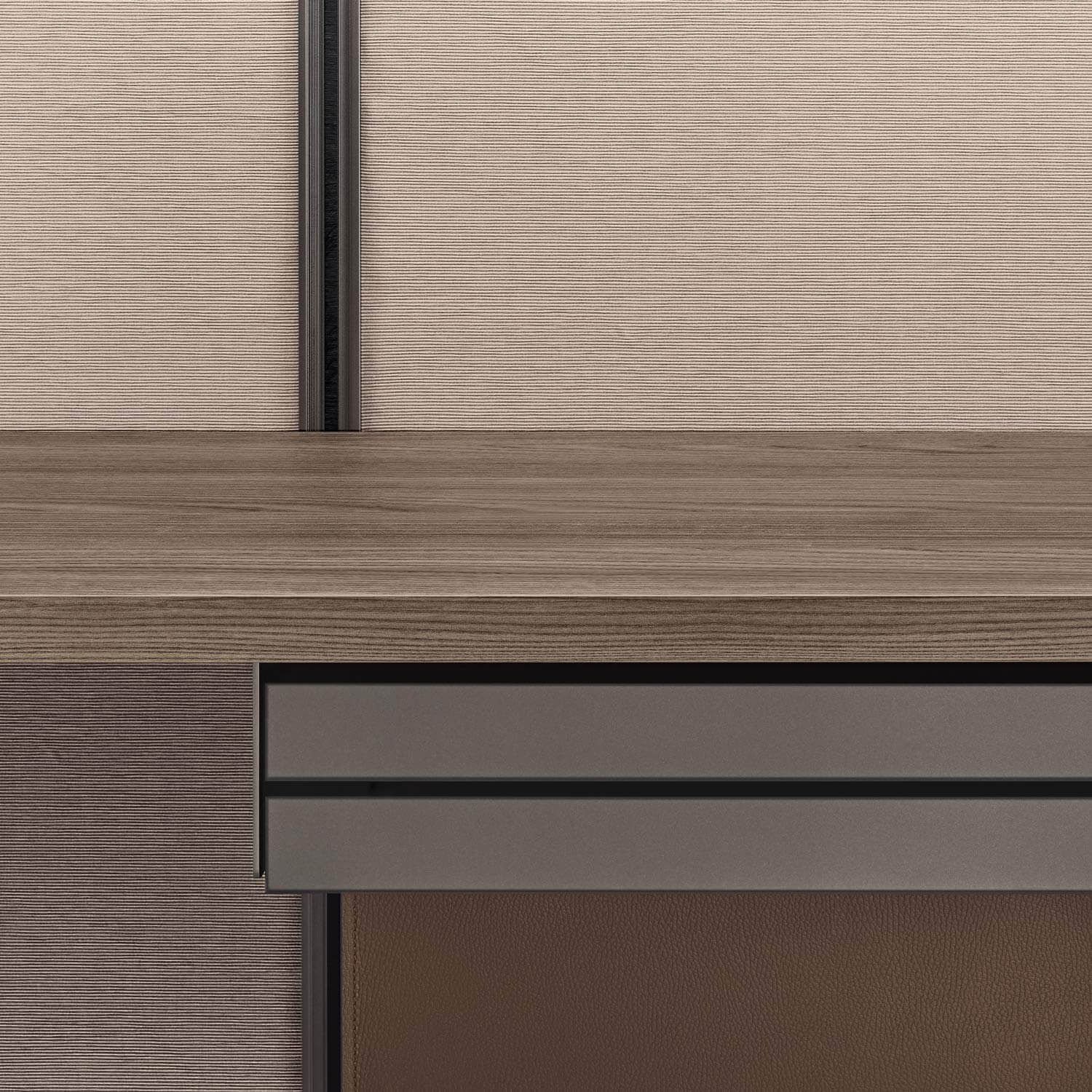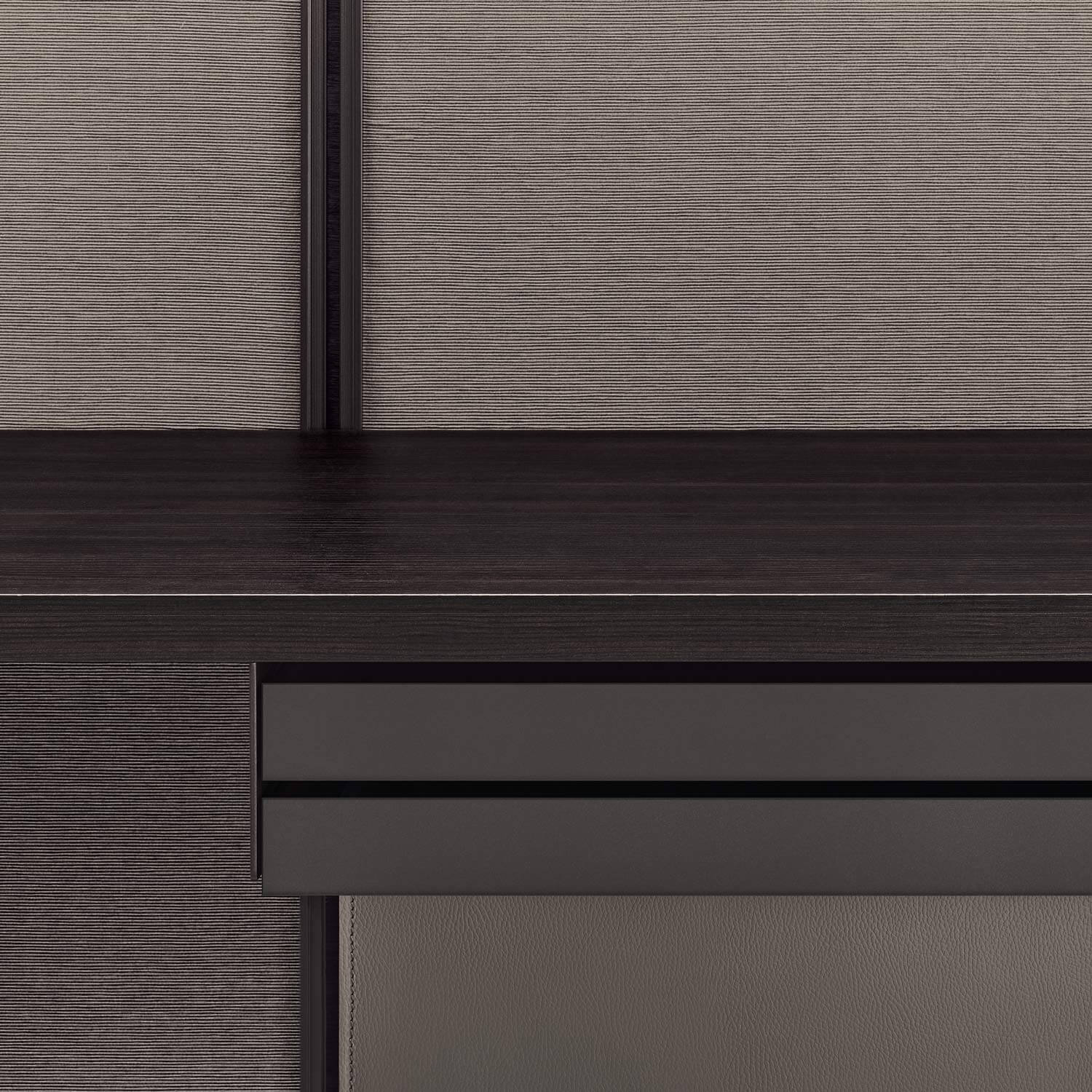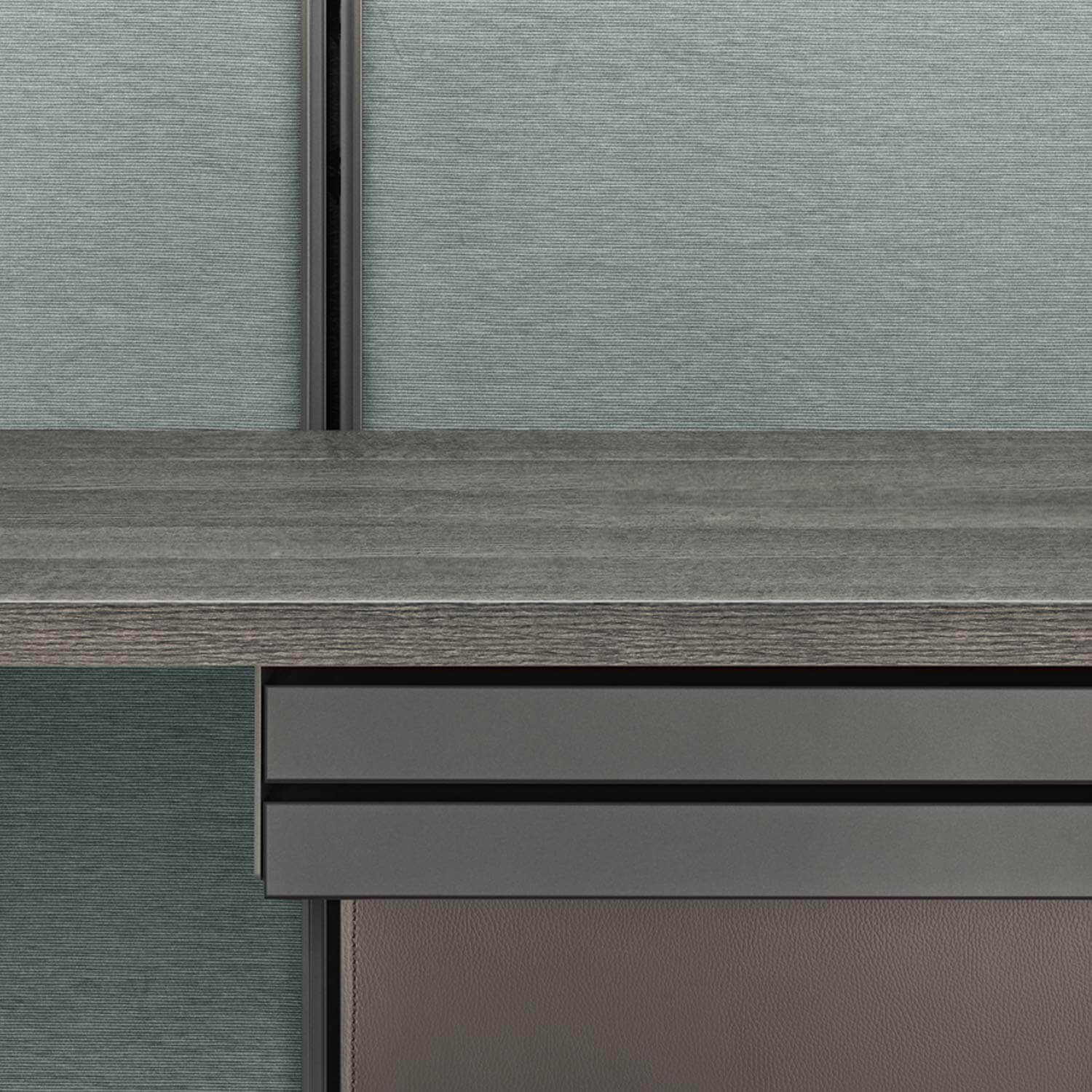 Aesthetical typologies
Two aesthetical possibilities are available: with visible uprights or with wall back panels, available in lacquered glass, wood, fabric and synthetic leather.
Download
Browse the technical documentation for detailed information about different dimensions, components and configurations.
Finishings
Structure and accessories
Alluminium 30 Alluminio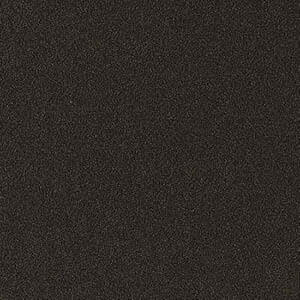 14 Brown
Ecolorsystem mat lacquered
Glass back panel
Ecolorsystem glossy lacquered glass
304 Platino lucido metalized
69 Palladio lucido metalized
83 Piombo lucido metalized
301 Peltro lucido metalized
302 Grafite lucido metalized
303 Bronzo lucido metalized
300 Rame lucido metalized
Load 36 more
Ecolorsystem mat lacquered glass
137 Platino opaco metalized
126 Palladio opaco metalized
127 Piombo opaco metalized
134 Peltro opaco metalized
135 Grafite opaco metalized
136 Bronzo opaco metalized
Load 36 more
Wooden back panel
Melamine
07 Melaminico olmo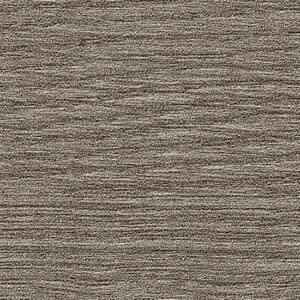 09 Melaminico rovere grigio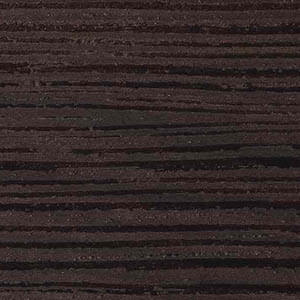 25 Melaminico larice carbone
Fabric back panel
Material fabric
T009 Piuma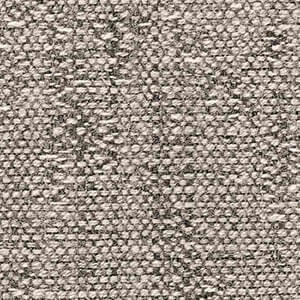 T020 Nebbia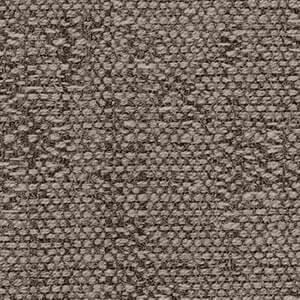 T019 Papiro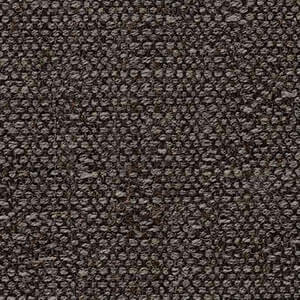 T018 Tabacco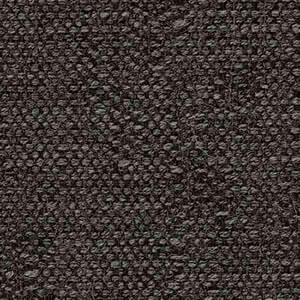 T017 Roccia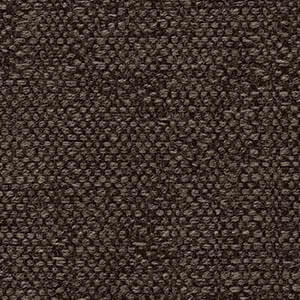 T003 Brandy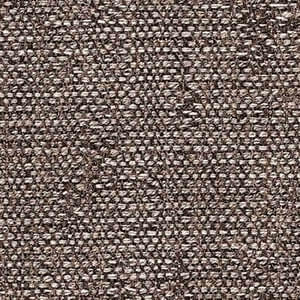 T001 Terracotta
Lux fabric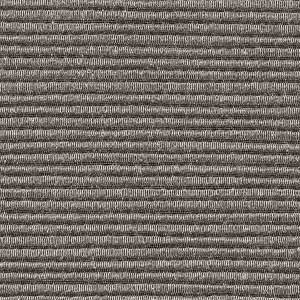 T006 Gesso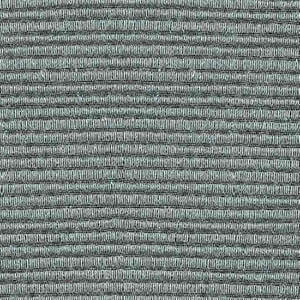 T051 Salvia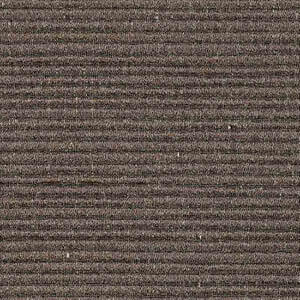 T012 Marmotta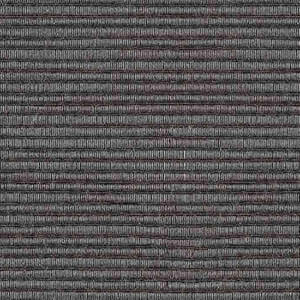 T044 Acciaio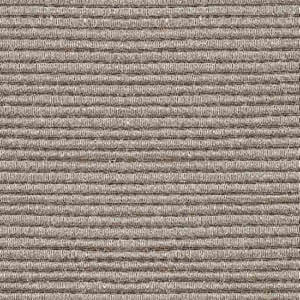 T052 Segale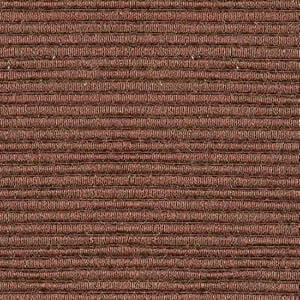 T042 Ruggine
Tessuto Tech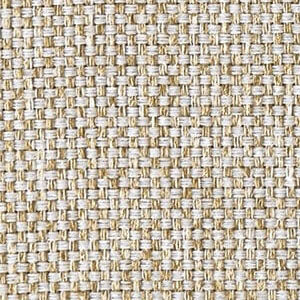 TT01 Duna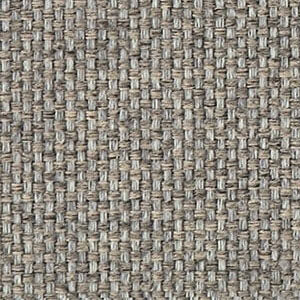 TT03 Tortora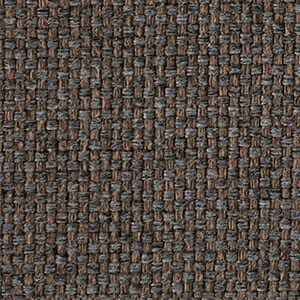 TT05 Mosto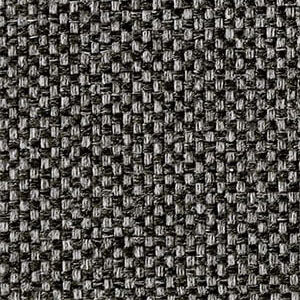 TT07 Antracite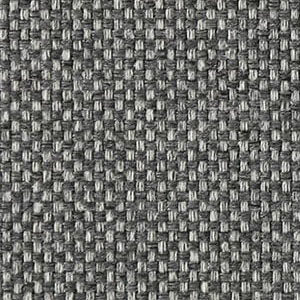 TT09 Fumo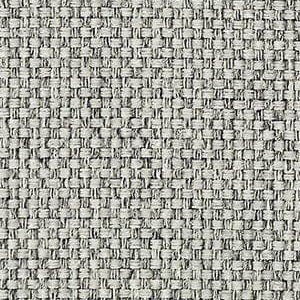 TT10 Ghiaccio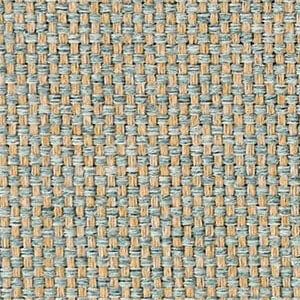 TT11 Giada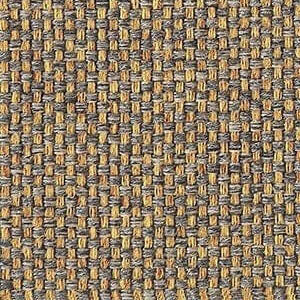 TT19 Canyon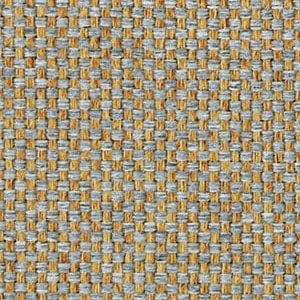 TT20 Dolomiti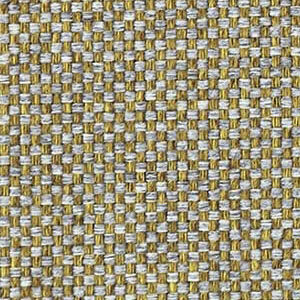 TT21 Cedro
Synthetic leather back panel
Synthetic leather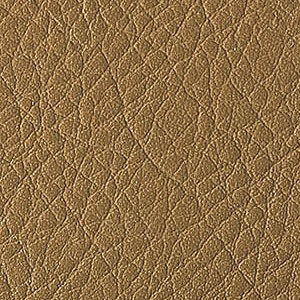 160 Miele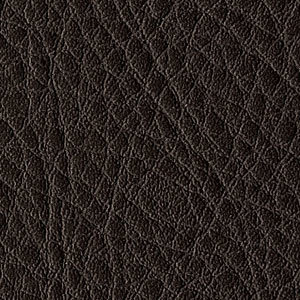 159 Etna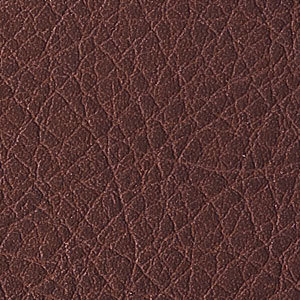 156 Rubens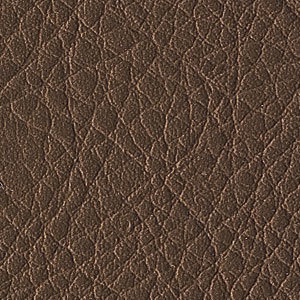 153 Castoro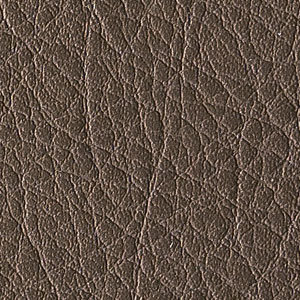 154 Argilla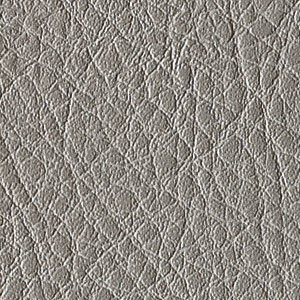 155 Nube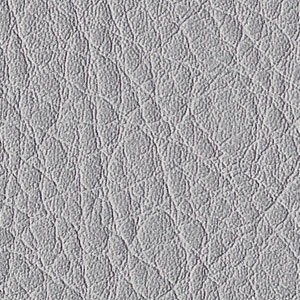 158 Agata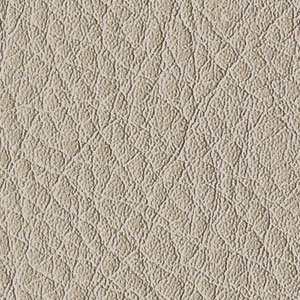 157 Arena
Floor base, shelf, drawer unit and shoe rack
Melamine
07 Melaminico olmo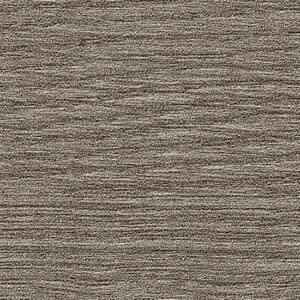 09 Melaminico rovere grigio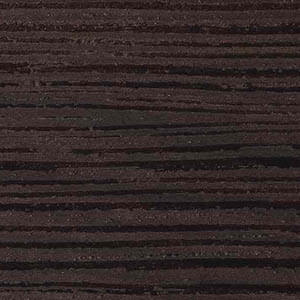 25 Melaminico larice carbone
Internal drawer unit
Internal Melamine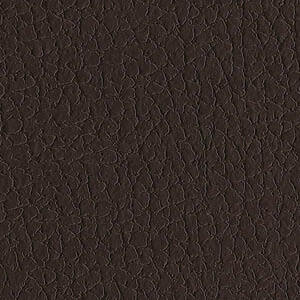 UB09 Melaminico cuoio brown
Pull out shelf cloth hanger bar
Synthetic leather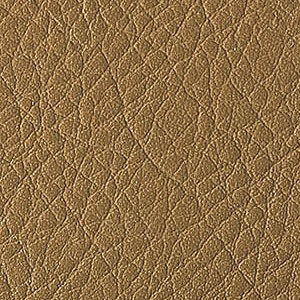 160 Miele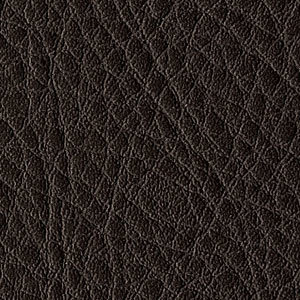 159 Etna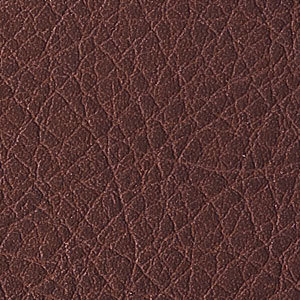 156 Rubens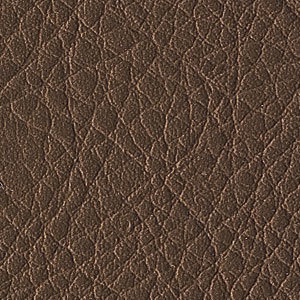 153 Castoro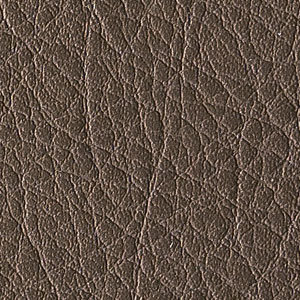 154 Argilla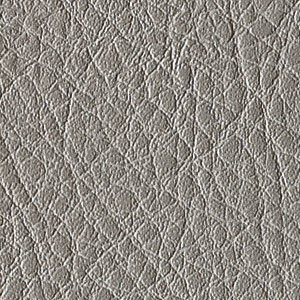 155 Nube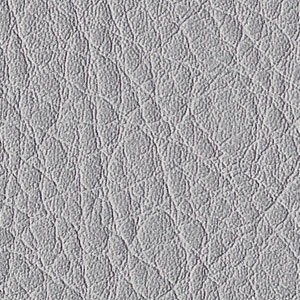 158 Agata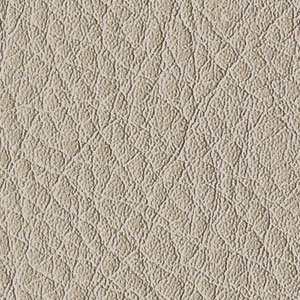 157 Arena