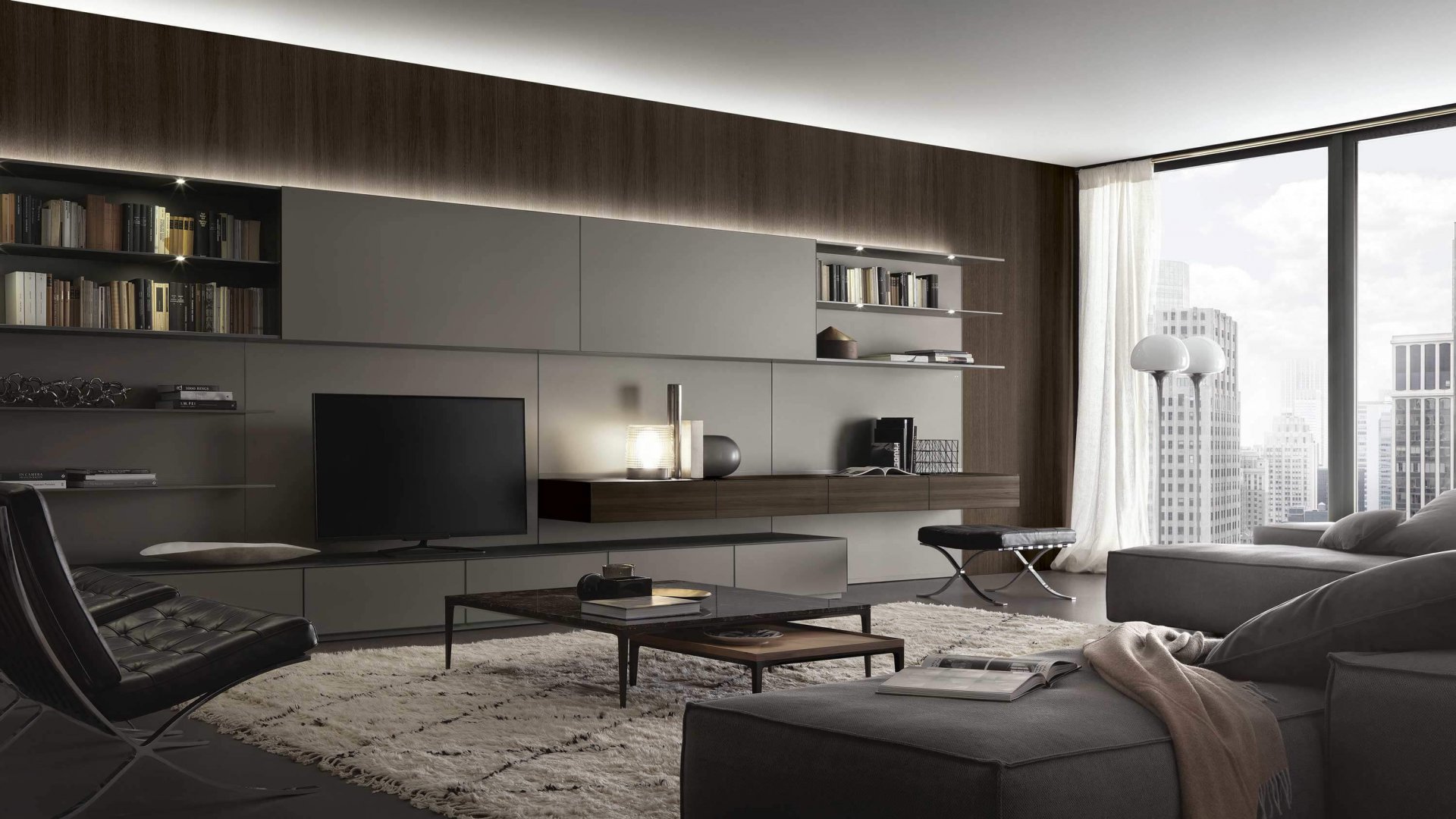 Is a new conception of the living room system. The design consists of a back panel in lacquered glass, a pure surface with light and reflections, which holds storage units made entirely of glass including drawers and sliding doors, extremely thin shelves and display cases with flap and sliding doors.
The back panels are fitted with a led lighting system in the upper and lower sections. Abacus living offers exceptional composition possibilities with glass wall panels available in five widths and five heights. The wide selection of storage units and accessories for the living and HiFi area enables the creation of solutions adapted to the most contemporary needs and distinguished by the use of glass.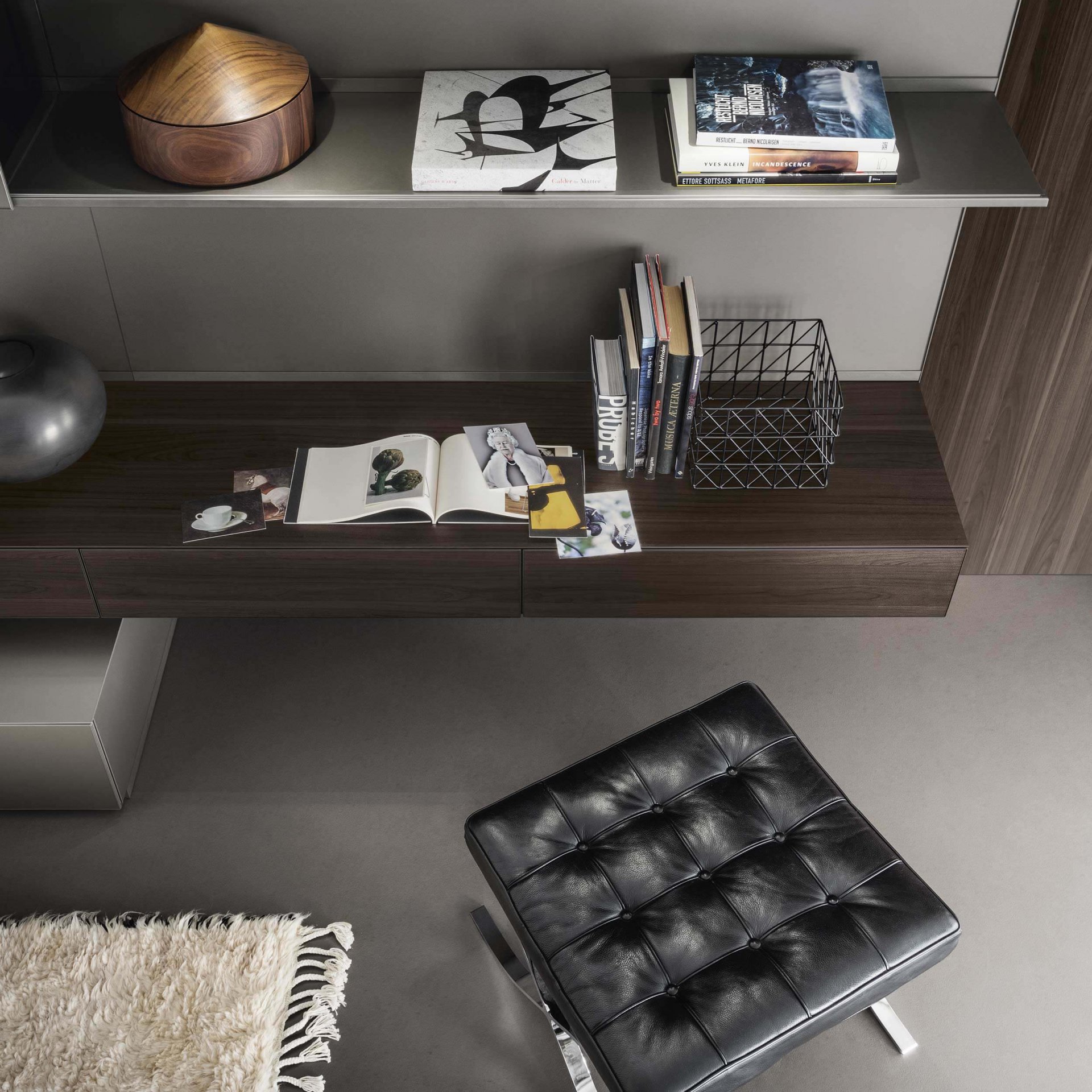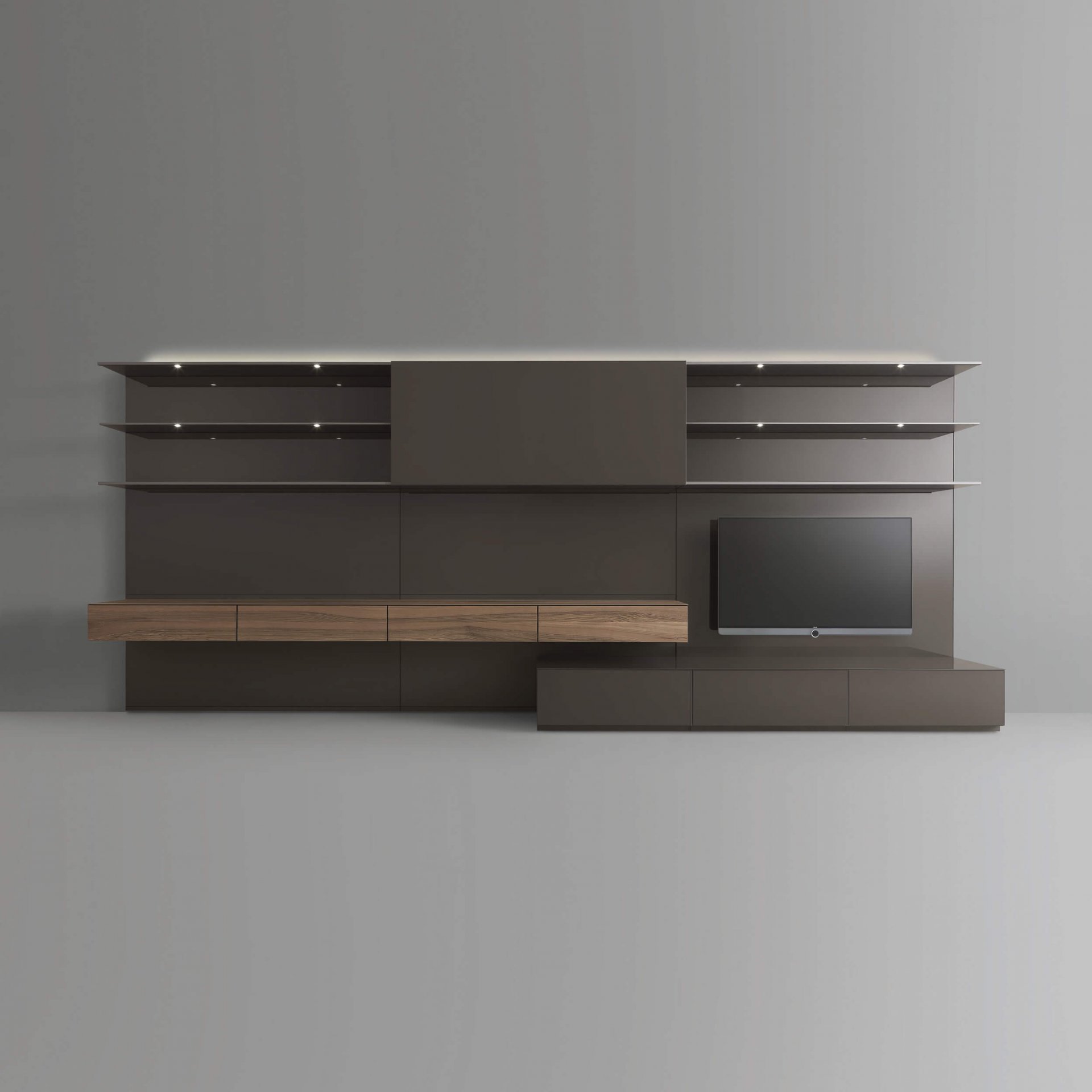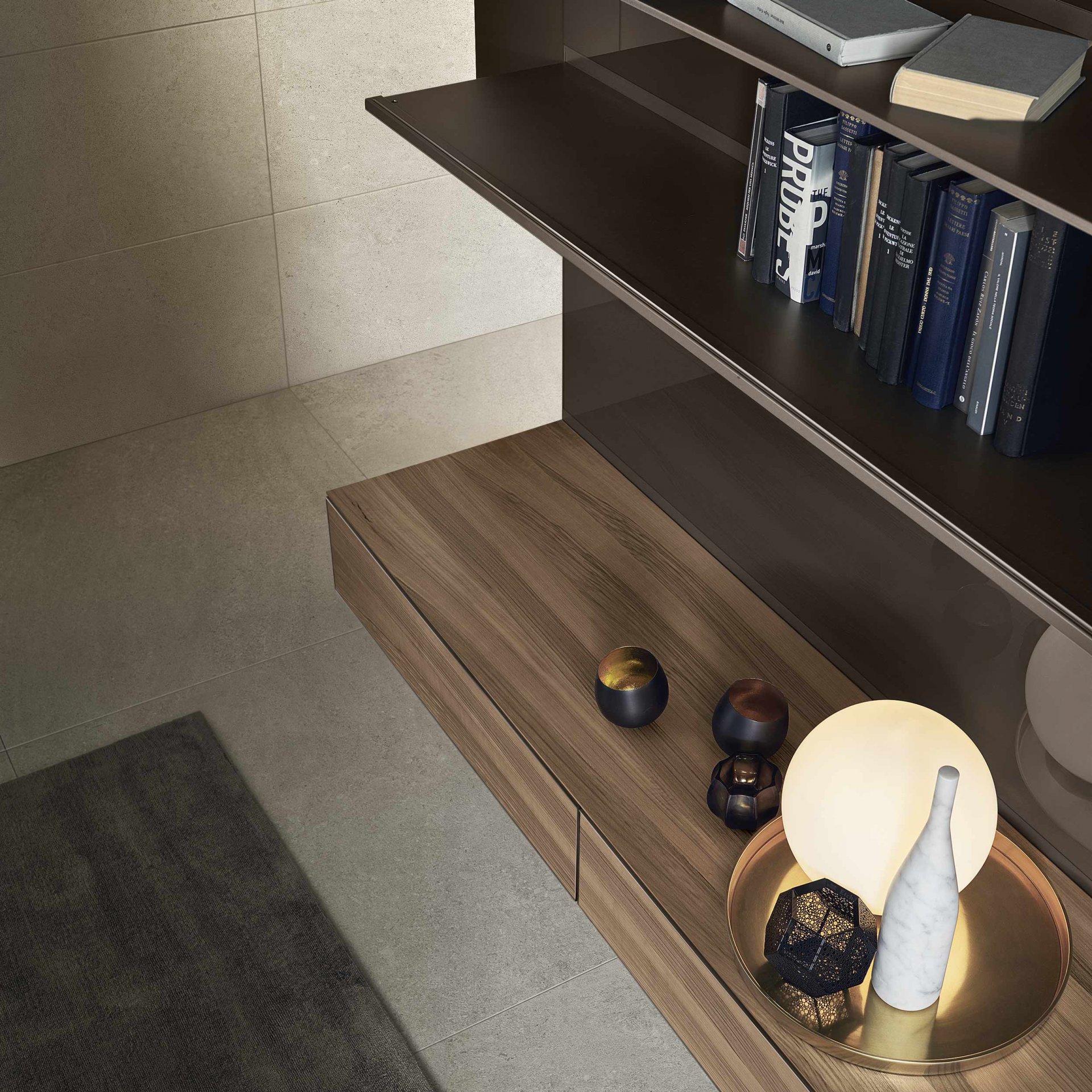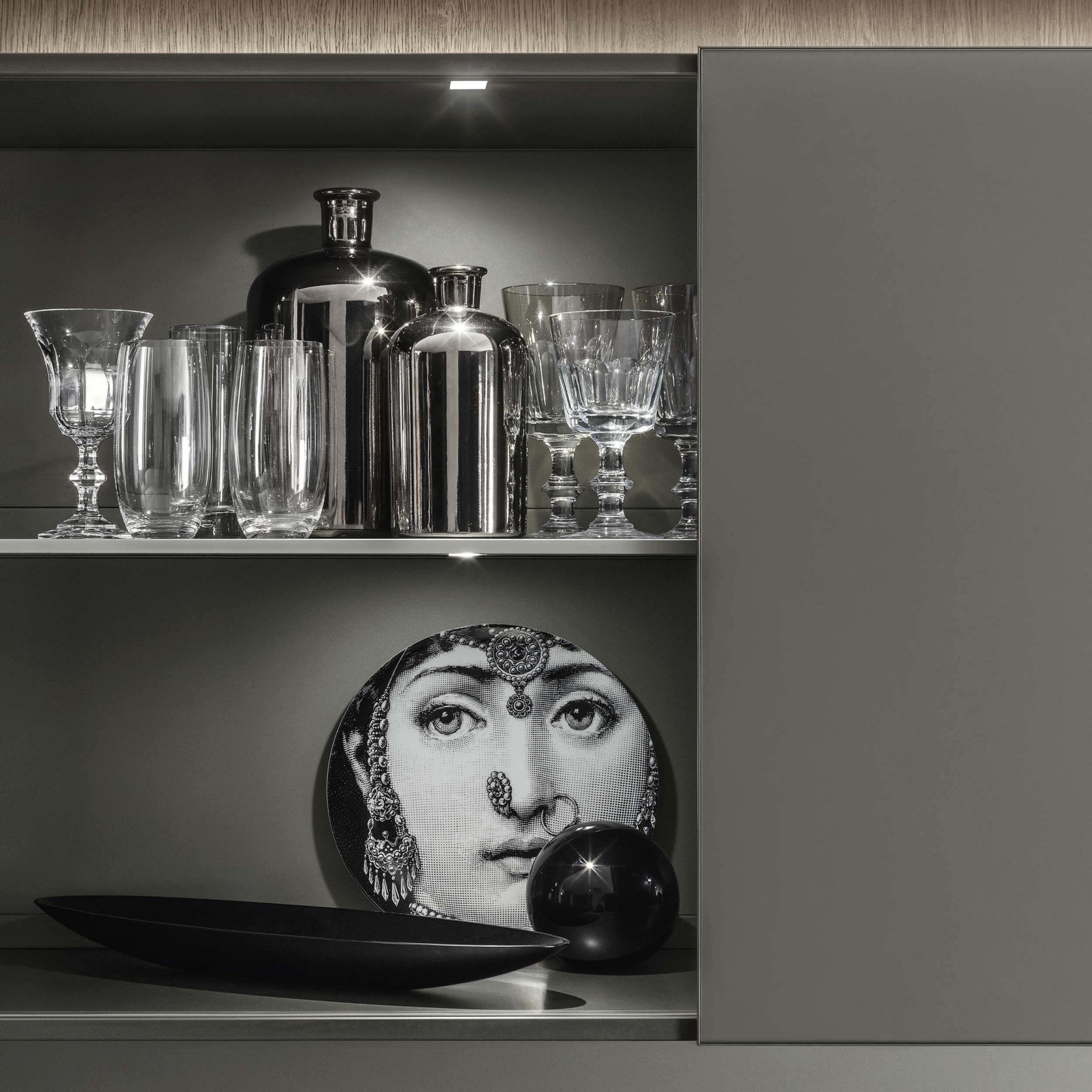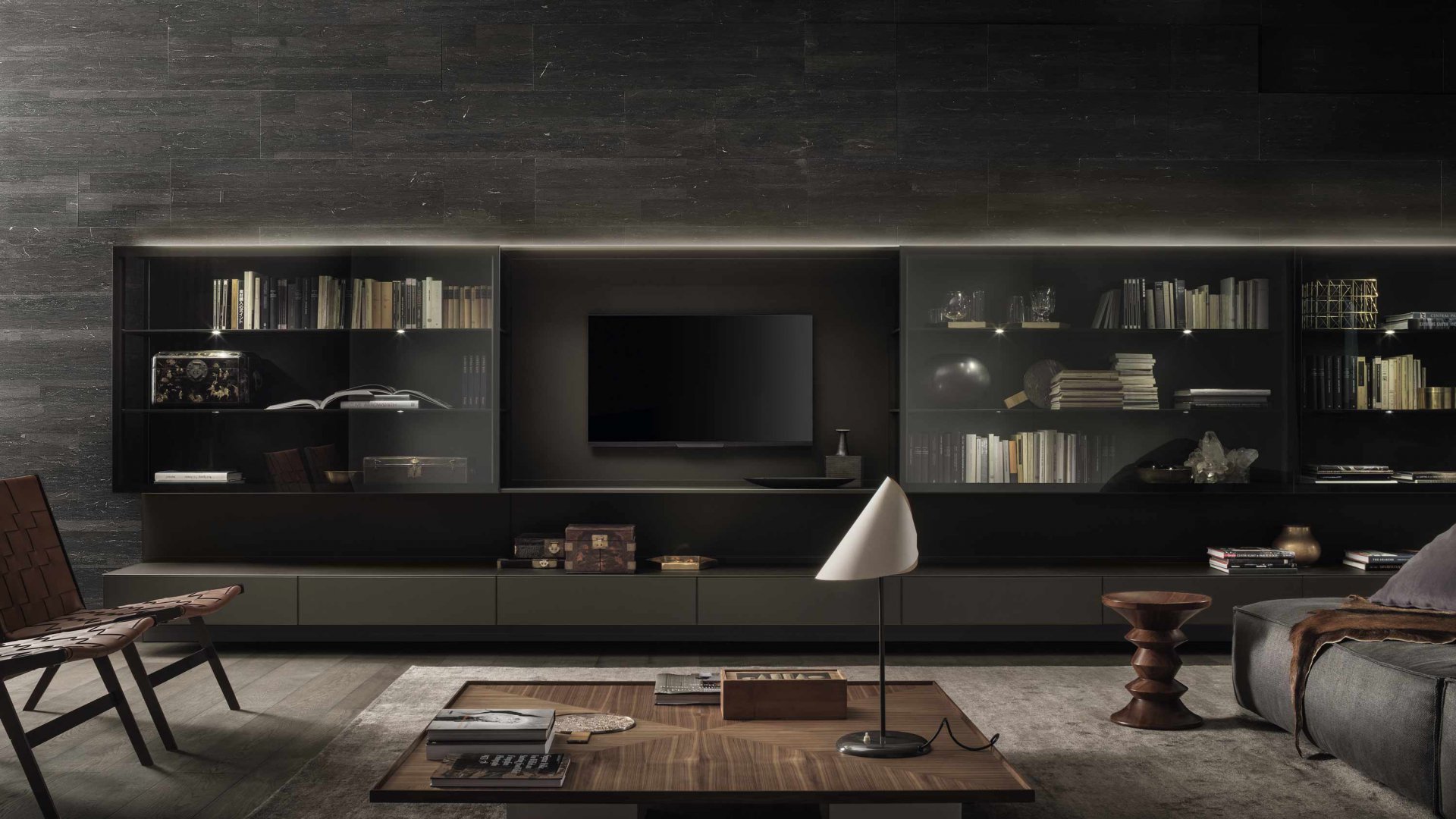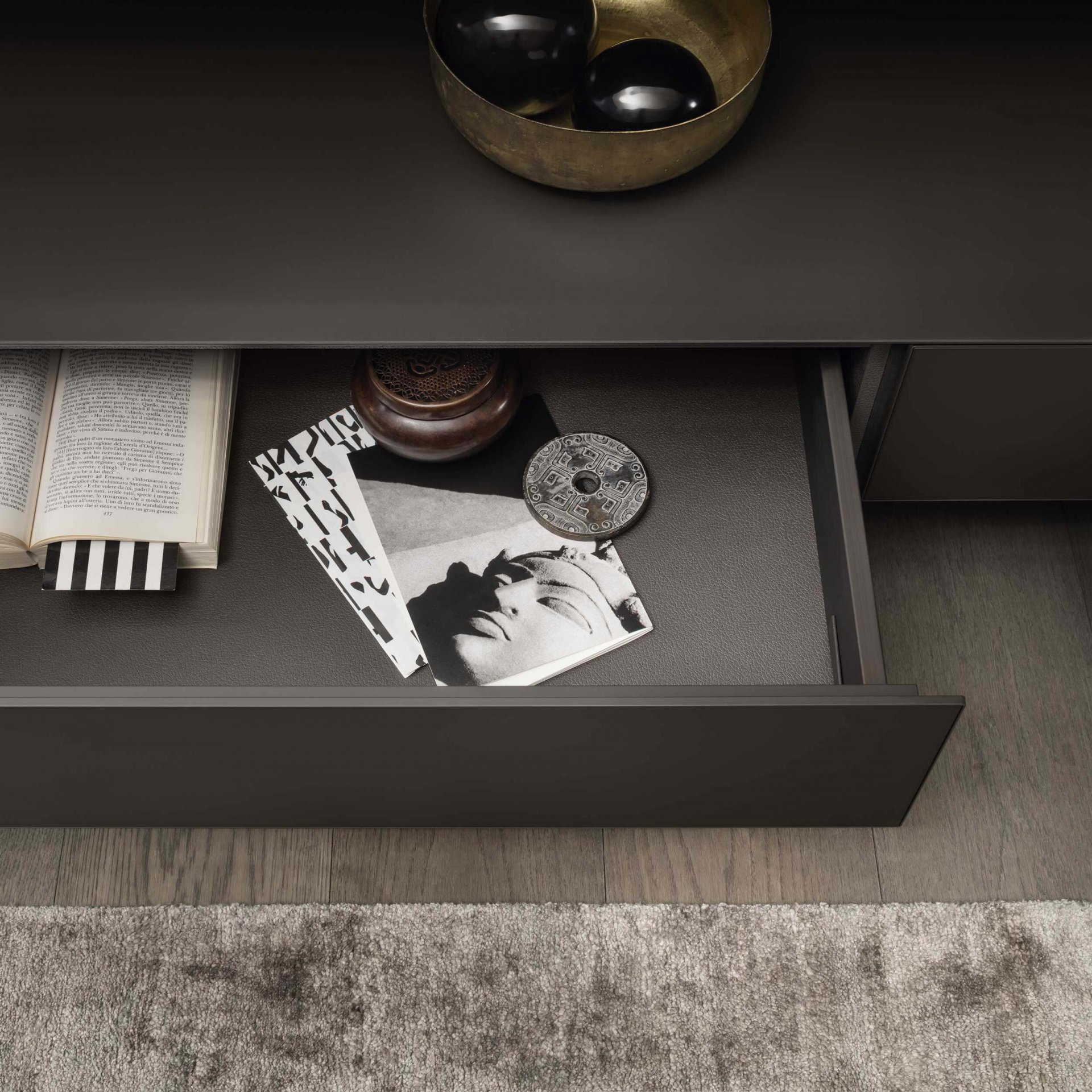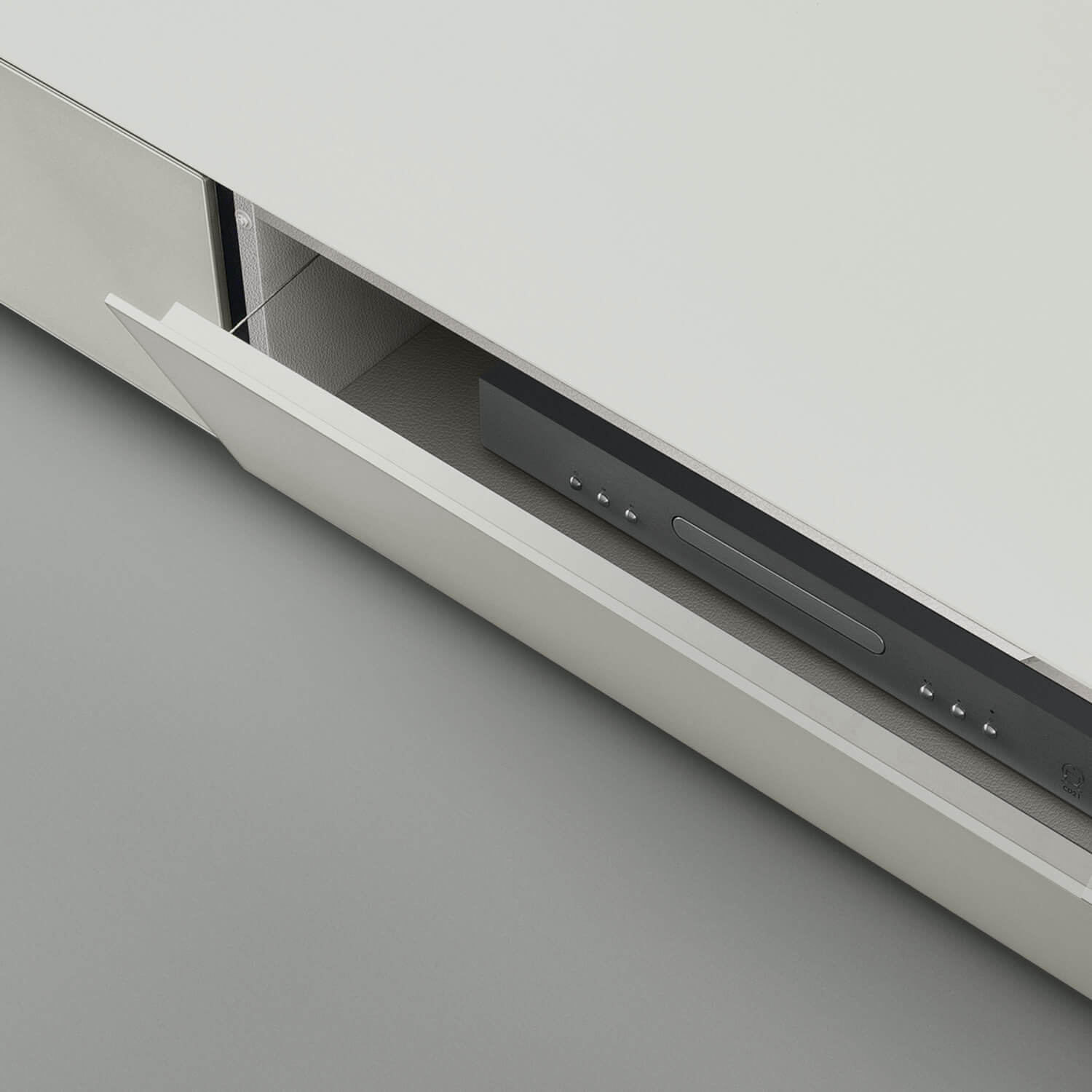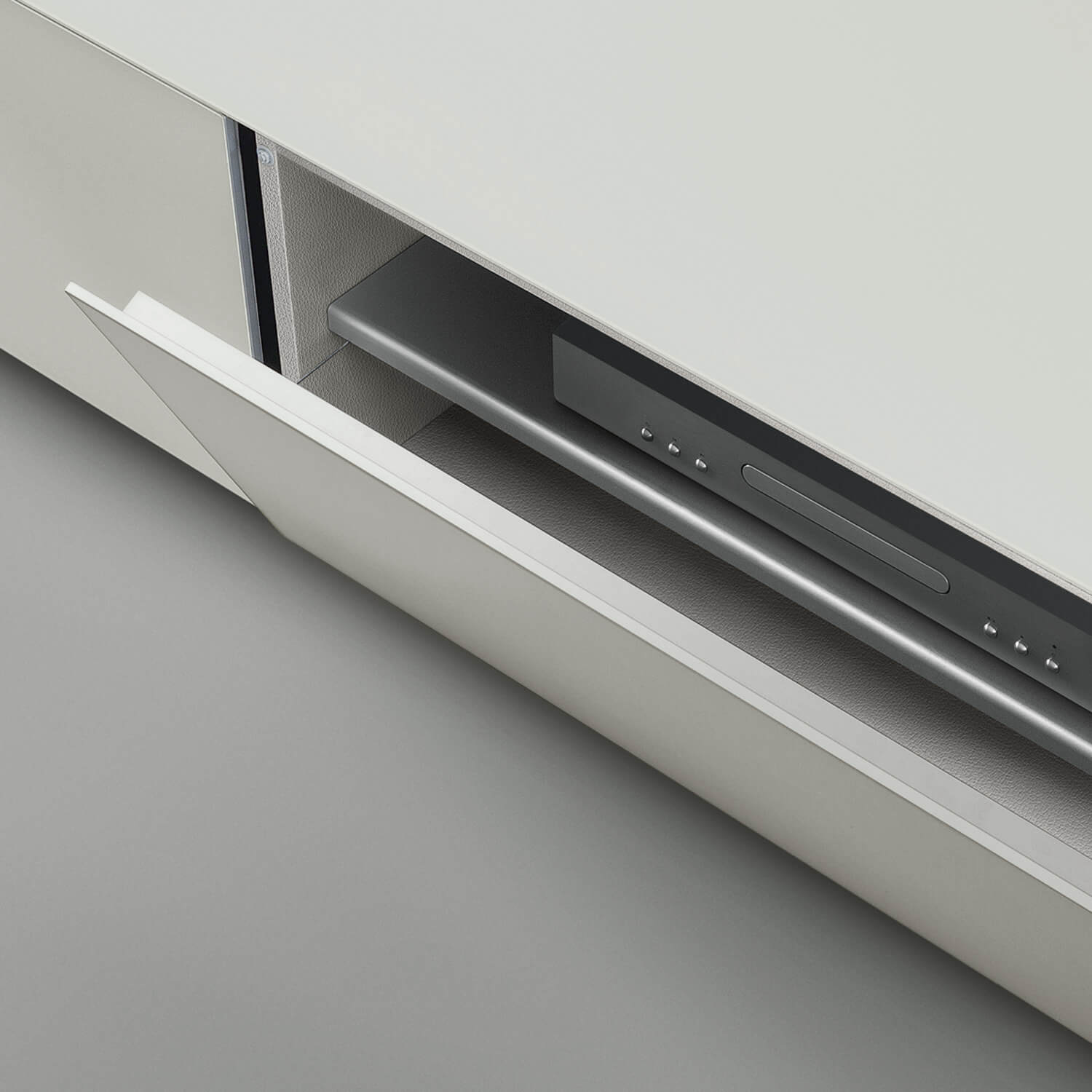 Cabinets
Rimadesio dedicates particular attention to the contemporary living area, and it shows through the continuous evolution of the Abacus living system, enriched with new solutions for cabinets and with advanced functional details.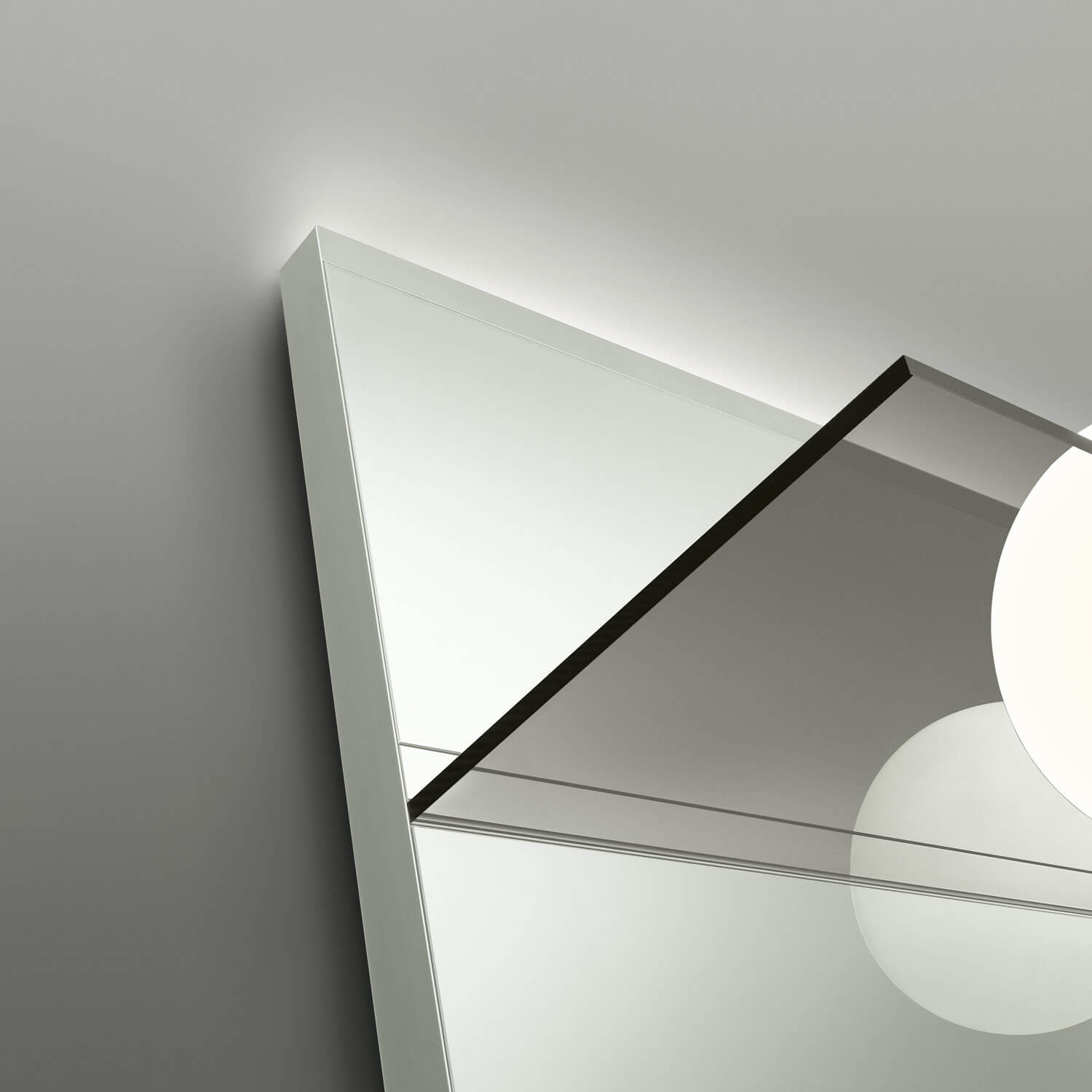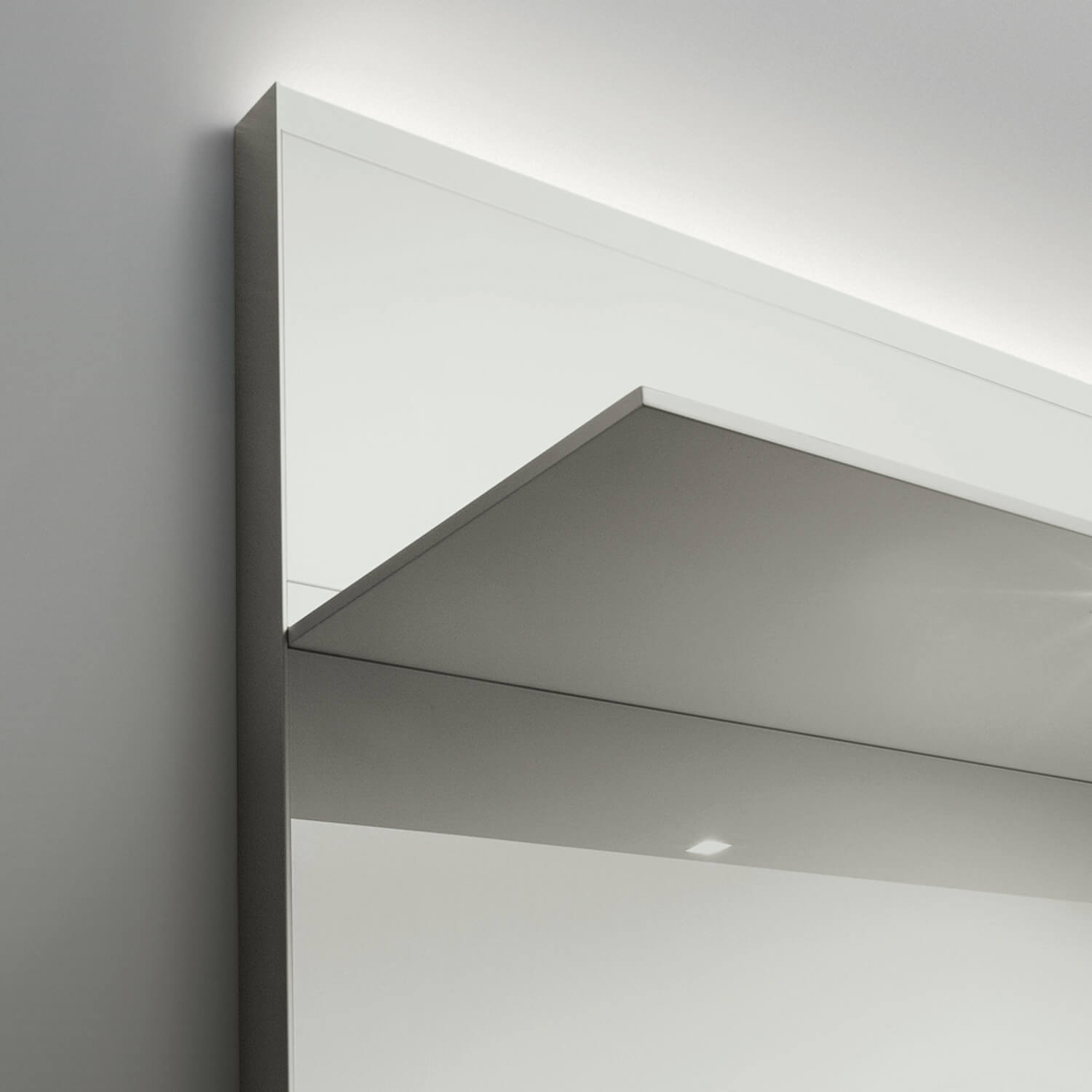 Shelves
A new shade of warmer light (3200° K) for the Abacus living compositions, from spotlights to soft lighting from the upper and lower back panel.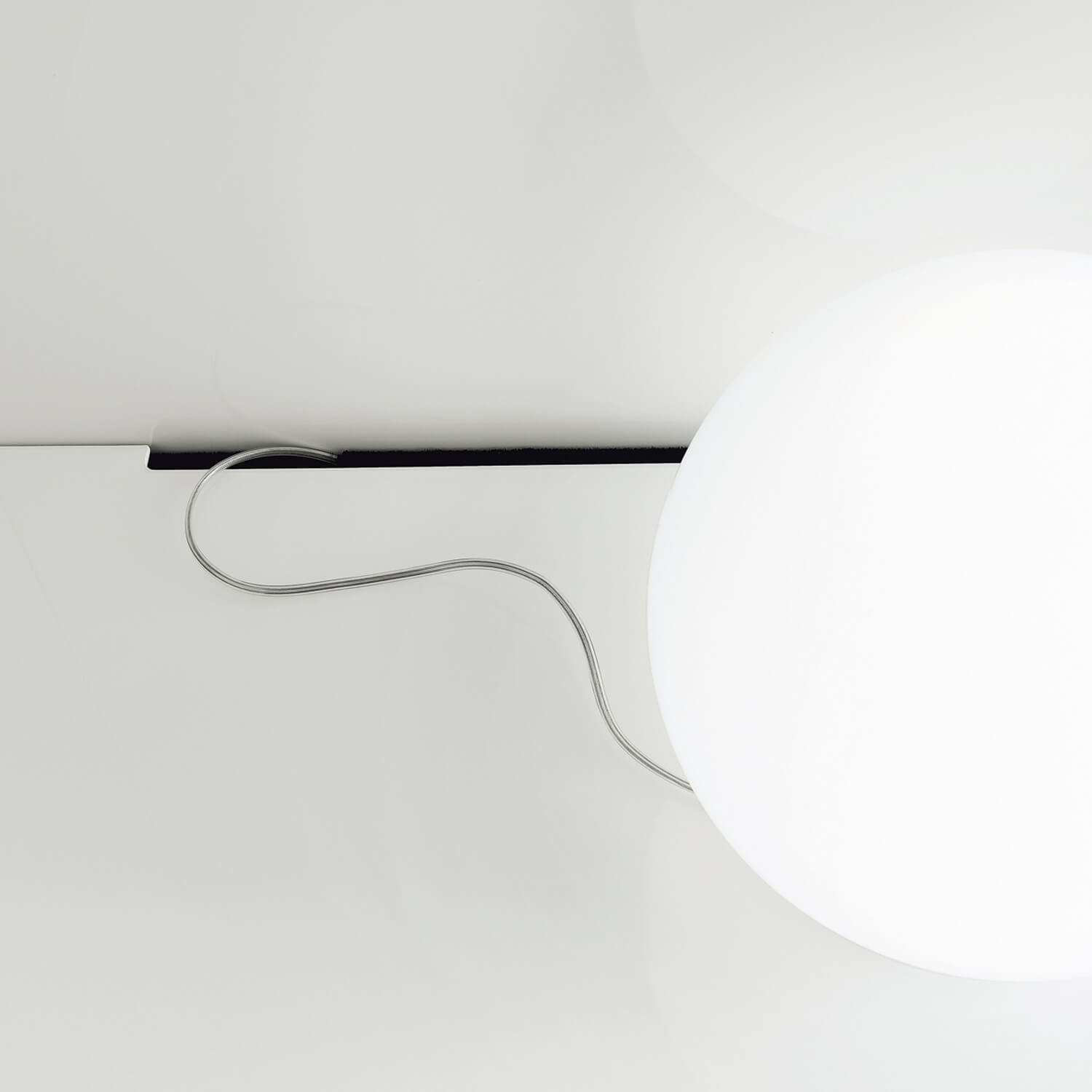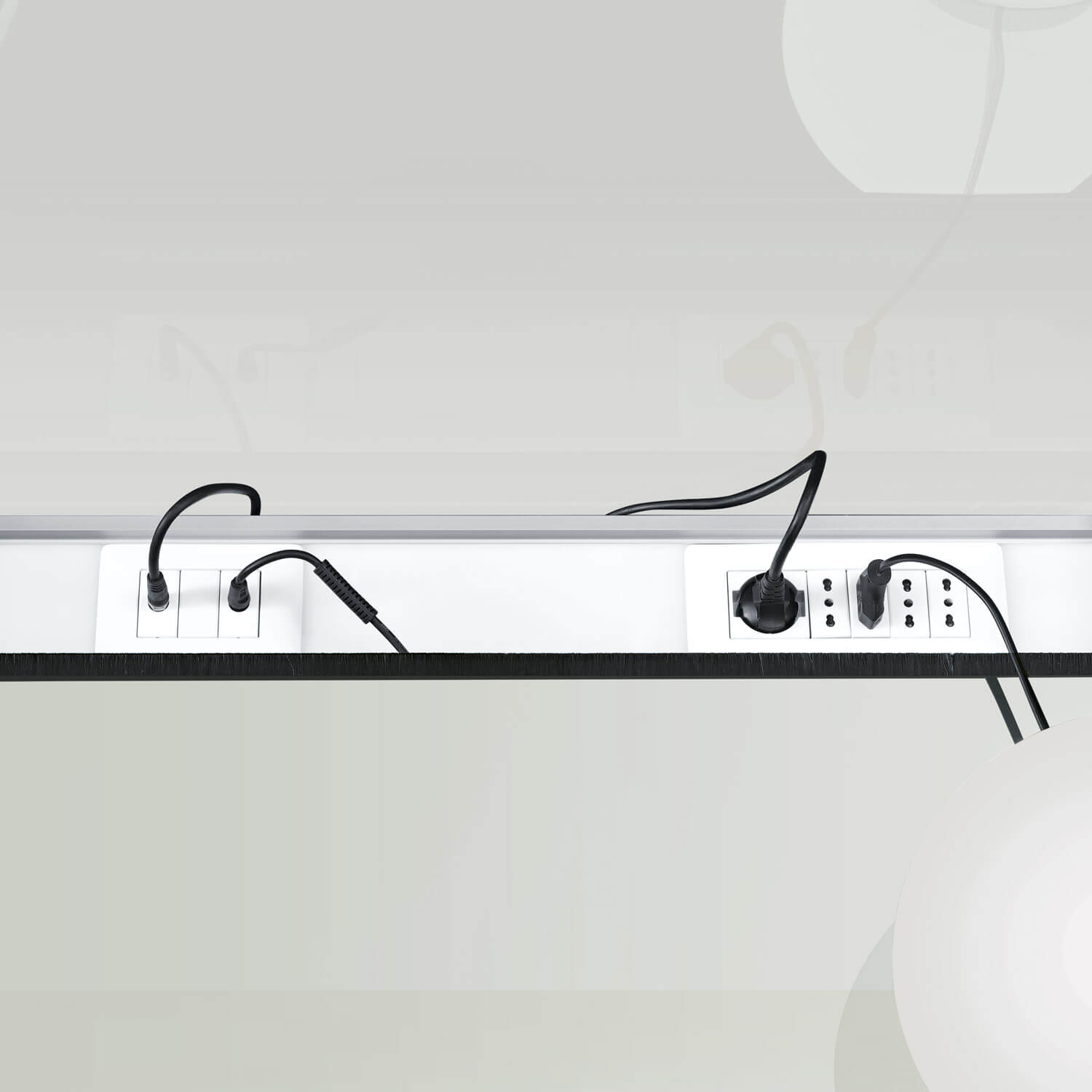 Cable-case
Designed to guarantee the best aesthetic result, the cable-case is equipped with electrical sockets and tv aerials and allows the screen and decoder to be connected without visible cables. The finishing top comes with an anti-dust profile.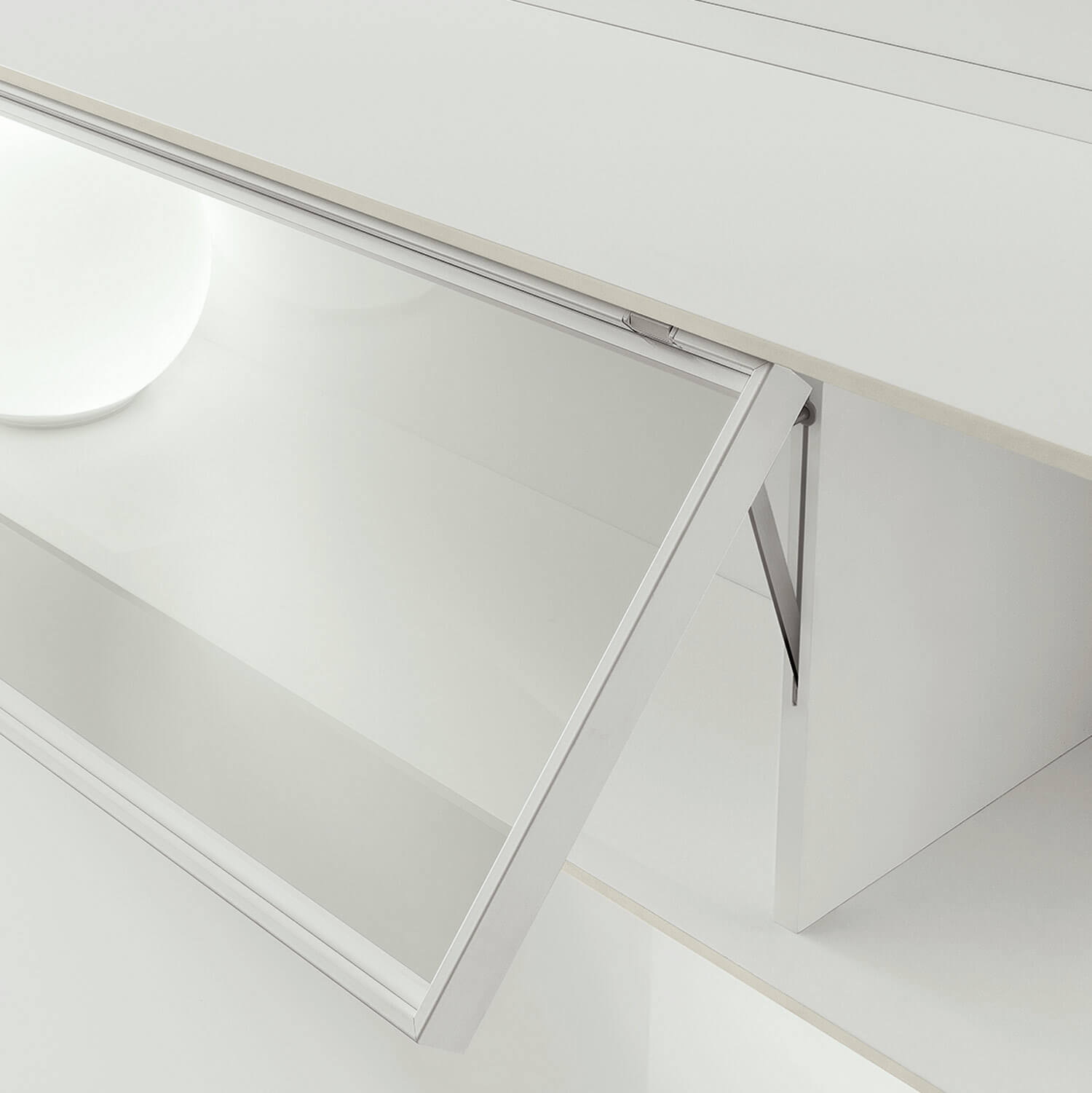 Display cabinet
Rimadesio's technology allowed the gas opening mechanism and the die-casting hinges to become invisible and allow silent opening and closing movements. The display cabinet is equipped with an integrated hidden handle and with internal led lighting, the cabinet has an edging profile in lacquered aluminium and its back is in a matching colour in tempered glossy lacquered glass.
Download
Browse the technical documentation for detailed information about different dimensions, components and configurations.
Finishings
Structure, side profile, laminated shelf, hinged door, showcase, accessories
Ecolorsystem mat lacquered
Skirting and drawer profile
Ecolorsystem mat lacquered
Alluminium 30 Alluminio
Panel, base, D 600, bench
Ecolorsystem mat lacquered glass
137 Platino opaco metalized
126 Palladio opaco metalized
127 Piombo opaco metalized
134 Peltro opaco metalized
135 Grafite opaco metalized
136 Bronzo opaco metalized
Load 36 more
Ecolorsystem glossy lacquered glass
304 Platino lucido metalized
69 Palladio lucido metalized
83 Piombo lucido metalized
301 Peltro lucido metalized
302 Grafite lucido metalized
303 Bronzo lucido metalized
300 Rame lucido metalized
Load 36 more
Internale base and suspended unit
Internal Melamine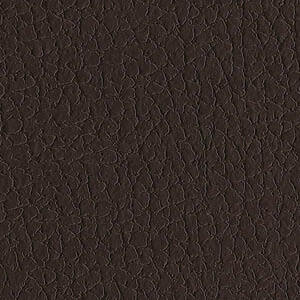 UB09 Melaminico cuoio brown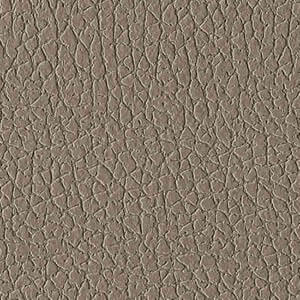 UB07 Melaminico cuoio grigio
Bases and suspended units D 450
Gres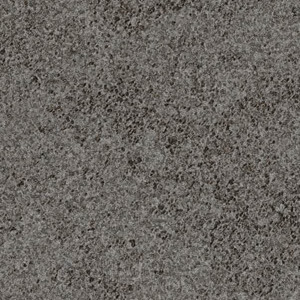 G003 Piedra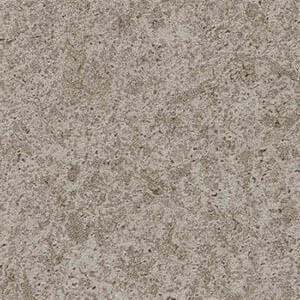 G001 Crema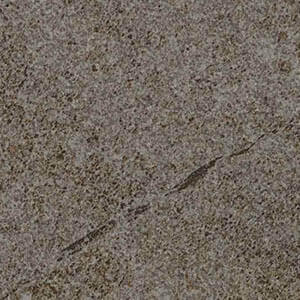 G002 Moka
Ecolorsystem mat lacquered glass
137 Platino opaco metalized
126 Palladio opaco metalized
127 Piombo opaco metalized
134 Peltro opaco metalized
135 Grafite opaco metalized
136 Bronzo opaco metalized
Load 36 more
Ecolorsystem glossy lacquered glass
304 Platino lucido metalized
69 Palladio lucido metalized
83 Piombo lucido metalized
301 Peltro lucido metalized
302 Grafite lucido metalized
303 Bronzo lucido metalized
300 Rame lucido metalized
Load 36 more
Wood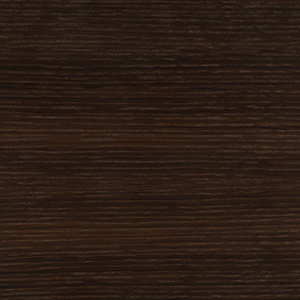 19 Rovere termotrattato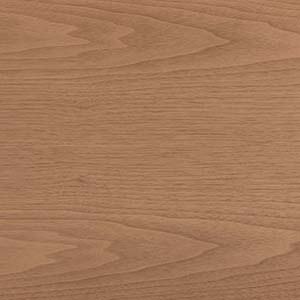 15 Noce
Showcase
Transparent glass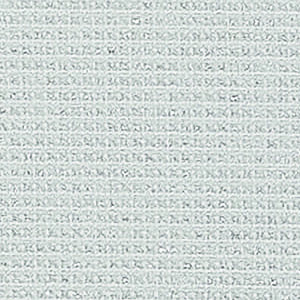 490 Diamante trasparente
Satinated glass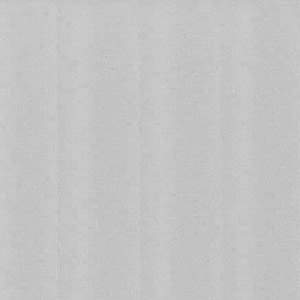 591 Acidato sahara
Sliding door
Ecolorsystem glossy lacquered glass
304 Platino lucido metalized
69 Palladio lucido metalized
83 Piombo lucido metalized
301 Peltro lucido metalized
302 Grafite lucido metalized
303 Bronzo lucido metalized
300 Rame lucido metalized
Load 36 more